Conan Leaving Max Weinberg Behind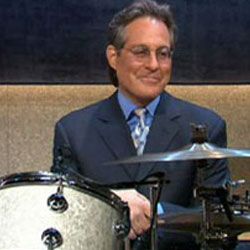 Conan O'Brien returns to television in a little less than a month and a half, but it looks like he isn't taking his entire show with him to TBS. You've seen the last of The Max Weinberg 7.
In an interview with River Front Times former Weinberg 7 member Jimmy Vivino says he's the new Conan band leader and that Max is out. "I'll be leading the band, and James Wormworth will be playing drums now. He played half of The Tonight Shows and a good quarter of the Late Night shows."
So what happened to Max? He's busy touring with Bruce Springsteen as the long time drummer of the E Street Band. Vivino jokes, "Max has his big band out there that has been his dream all his life, kind of a Buddy Rich band. And there's a kid in Jersey that works with him occasionally. A singer-songwriter! [Laughs] Some guy that's got some hope over there!"
As for Max, he'll be missed. While it's unlikely Conan will miss a beat without him, Max was always more than just a drummer on the show and frequently ended up involved in some of O'Brien's most classically ridiculous bits. Here's one of them:
Your Daily Blend of Entertainment News
Thank you for signing up to CinemaBlend. You will receive a verification email shortly.
There was a problem. Please refresh the page and try again.