Continuum Is Ending, Get The Details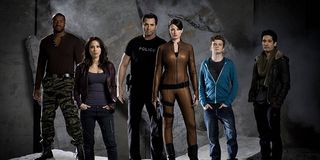 It's official, Continuum fans. The show has officially been renewed for a six-episode fourth season by both its original Canadian channel, Canada's Showcase, and its US distributor, Syfy, but this will sadly be the series' final one. Continuum's last season will be airing next year, and is sure to give fans a satisfying end to the show. The show's star, Rachel Nichols, released a statement saying "all great great stories deserve an end." Despite the shortened season, it looks like both Syfy and Showcase want to give Continuumthe ending it deserves.
Fans of the show were quite concerned that Continuum would end on the crazy Season 3 finale, which had Kiera's future crashing into her present. While six episodes may not feel like enough to properly end the story of Kiera's journey through time, it seems Nichols has faith in the show's ending, calling the final season an opportunity to, "finish Continuum with the riveting conclusion it deserves," as Deadline reports.
Continuum is a futuristic cop drama set in Vancouver, Canada, centering around Rachel Nichols' character, Kiera Cameron, a police officer from 2077 who finds herself mysteriously transported to modern-day Vancouver. She fights crime and stops terrorism as she attempts to find her way back to her own time. Continuum also stars Victor Webster, Erik Knudsen, Lexa Doig,Omari Newton, Roger Cross, Richard Harmon, Luvia Petersen and Stephen Lobo.
The show was picked up originally by Syfy in 2013 after its wildly popular first season in Canada the year prior, actually becoming the network's highest-rated episodic telecast ever, with 900,000 total viewers and 427,500 adults from ages 25-54.
In addition to the series finale of Continuum, Syfy has some pretty exciting programming planned for the future. The network will be airing a drastically different second season of the zombie/virus thriller Helix and another season of network staple Haven. In addition to those programs, the network is also going to be releasing a bunch of new dramas. Syfy has a futuristic mini-series headed our way called Ascension, a television re-imagining of the Terry Gilliam film, 12 Monkeys, and they just announced a Superman-related show, Krypton. So though the Syfy network has often had a bit of trouble finding shows to stick around for more than a few years, it seems like it is certainly trying to up the ante for viewers.
So try not to fret too much, Continuum fans. With no official plot release for the show's final season (though it's fair to assume they will finally let you know Kiera Cameron's fate) and no official release date for the final season, there's not much to do but binge watch the first three seasons on Netflix and Blu-ray. Of course, as soon as we get any more information on the series finale of Continuum, we'll be sure to fill you in.