Cosplay, Fandom, And Joe Rogan Showcased In Syfy's New Reality Series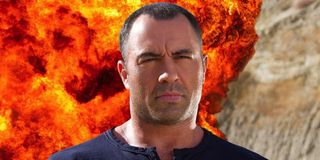 Syfy is adding to its unscripted lineup, with three new reality series announced today that are set for sumer and fall premieres. The first will feature Fear Factor host Joe Rogan hunting for the truth behind paranormal theories, and the others will both look at often misunderstood subcultures – one at the world of cosplay and the other the lives of a group of pop-culture obsessed fan boys and girls.
Joe Rogan Questions Everything is a series that will follow Rogan as he crosses the country doing whatever it takes to seek out the truth behind paranormal mysteries. Which sort of makes him a real-life Fox Mulder, without the badge and gun. What type of mysteries he'll be exploring is unclear, but it seems he has a lifelong fascination with the paranormal, and not only the plain old abnormal usually seen on Fear Factor. Joe Rogan Questions Everything premieres July 16th at 9 p.m. EST.
Cosworld will feature an in-depth look into the world of cosplay – an activity that gives playing dress-up a whole new meaning. The series will follow some of the top people in the cosplay world as they come up with new and ever more imaginative and intricate costumes in an effort to win a cash prize and bragging rights. Cosplay is one of those things that has slowly made its way into the mainstream consciousness from its former place on the margins, but still strikes most people as being pretty eccentric. But if any channel has the viewership for a show like this it's Syfy. Cosworld premieres August 27th at 10 p.m.
Last up is Fandemonium, a look at the lives of a group of hardcore pop culture fans. I suspect these people will live up to all of our list of the top signs of fandom and then some. The show will follow a group in Los Angeles as they try to balance their lives and their obsession with their heroes. This one will hit the air in the fall, date yet to be determined.
Your Daily Blend of Entertainment News
Thank you for signing up to CinemaBlend. You will receive a verification email shortly.
There was a problem. Please refresh the page and try again.