Cristela Alonzo Brings Mexican-American Humor And A Laugh Track To ABC's Lineup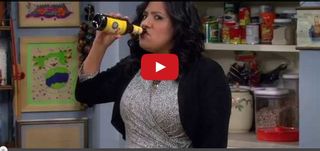 ABC currently has two basic types of comedies on its roster—the witty, strange and irreverent comedies like Modern Family and the comfortable joke machines like Last Man Standing. If you were wondering what the network's recent multi-camera comedy pick-up Cristela will be like, you need look no further than the trailer ABC released to coincide with this week's big pick-up announcements. In case you can't watch the trailer at this very second, I'll go ahead and tell you that it uses cutesy humor and a really loud laugh track to sell itself.
Namely, the series is about a young woman named Cristela (Cristela Alonzo) who has a big brain, big dreams and big… never mind. She's stuck living with her Mexican-American family while she pursues her ideal life, and they have plenty to say about her goals, as well as her current living situation. It's clear from the trailer that Cristela has plenty of personality and can easily take life in stride, but it's equally clear that these one-liners are geared to the average TV viewer rather than the obsessive comedy afficionado. Sample Joke setup: Cristela tells her brother-in-law to get a room. She's living in his house and he hollers "No you get a room; these are all my rooms."
If you can't enough of that sort of hardy-har-har joke, here's a full clip from the brand new comedy.
You may be surprised by this, but ABC was listing Cristela on the bubble just a few days ago. However, it's not a huge shock that the network would want to give the series a shot. Cristela Alonzo has proven herself to be a huge talent as a writer on shows like Mind of Mencia, and her perspective as a Latina woman should give ABC's vanilla network a little more flavor. Plus, the way the comedy is structured should fit right in with the likes of Last Man Standing…
…which is why the network has already announced that Cristela will premiere opposite Last Man Standing and reality juggernaut Shark Tank on Friday nights. Even though I'm kind of a comedy snob, this comfortable brand of humor could actually do quite well in ABC's lineup and could last longer than ABC's 2013-2014 problem comedies, including Super Fun Night and Trophy Wife (it should be noted that with the Friday night slot, the network's ratings expectations should also be a whole lot lower). We won't find out until this fall, but kudos to Alonzo for making it onto network television, and for rocking out that red dress in the Cristela promo.
Your Daily Blend of Entertainment News
Reality TV fan with a pinch of Disney fairy dust thrown in. Theme park junkie. If you've created a rom-com I've probably watched it.
Your Daily Blend of Entertainment News
Thank you for signing up to CinemaBlend. You will receive a verification email shortly.
There was a problem. Please refresh the page and try again.