Super Fun Night Review: Rebel Wilson And Friends Hit The Town In ABC's New Comedy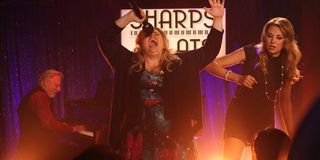 Rebel Wilson brings awkward humor to the small screen with Super Fun Night, a series written by the Australian who's been steadily making a name for herself in in feature comedies, with memorable roles in Bridesmaids and Pitch Perfect. In Super Fun Night, Wilson plays junior attorney Kimmie, a woman determined to have fun with her friends every Friday night.
The series premiere is labeled Episode 102 and Kimmie refers to their planned night out as their second super fun night, which leads me to believe we're not actually seeing the pilot tonight. Alas, the set up is simple enough that an origin story about the foundations Kimmie Boubier's "super fun night" ritual isn't really a requirement. Everything we need to know is built into "Anything For Love," which has Kimmie teamed with her best friends Helen-Alice (Liza Lapira) and Marika (Lauren Ash) and headed off to a piano bar where Kimmie vows to overcome her fear of stage fright. To add to her anxiety, the dreamy and polite son of her boss Richard Royce (Kevin Bishop) has decided to tag along for support, along with Kimmie's rival Kendall (Kate Jenkinson), whose competitive spirit threatens to derail Kimmie's good time.
An appreciation for Wilson's style of humor is probably going to be a requirement to enjoy this series, and since I have that, I found Super Fun Night charming, amusing and full of potential to be a great comedy for ABC. On story, the piano bar adventure was nothing particularly hilarious, but Wilson found a way to use her voice, and the episode does a nice job of bringing us into her life, showing just how awkward she is but also determined not to let that slow her down, even in the face of the skinny and beautiful Kendall. The humor frequently treads knee-deep into goofy territory -- See the Spanx shenanigans and watch Kendall's desperate attempt to one-up Kimmie at the piano bar for evidence of that -- but that's not such a bad thing for a comedy. The series seems set up to be less about believability as it is about establishing Kimmie as the underdog with a big spirit to compensate for a lack of poise.
To look at Wilson's past performances, particularly in her role as Fat Amy in Pitch Perfect, it seems like she's been cultivating this act for quite some time now, as it's not hard to picturing Kimmie getting "shot" by a drive-by burrito. Kimmie's friends suit her just as well, as they're both nearly as awkward but motivated to stay together and have fun. You may recognize Liza Lapira from numerous roles, including Don't Trust the B---- in Apartment 23 (RIP.) or the part of the dryly amusing Liz in Crazy Stupid Love. Lauren Ash is also no stranger to CSL's Ryan Gosling, having appeared in Lars and the Real Girl. Both play supportive friends to Kimmie, and hopefully we'll get to know them better as the series resumes.
Super Fun Night should benefit noticeably from its Modern Family lead-in as other comedies have in the past, but ABC hasn't had the best of luck with friends-focused comedies lately. See Don't Trust the B and Happy Endings, two very funny comedies, both of which debuted in that timeslot and struggled for ratings, especially when they were moved elsewhere on the line-up. Hopefully Super Fun Night will buck that trend, especially if ABC decides to do some schedule shuffling later in the season. In the meantime it's worth a look for anyone who appreciates awkward, goofy humor mixed with a sweet underdog tale about a girl and her friends just looking for a good time.

Super Fun Night airs Wednesday, October 2 at 9:30 p.m. Et on ABC. Watch the trailer here.
Your Daily Blend of Entertainment News
Thank you for signing up to CinemaBlend. You will receive a verification email shortly.
There was a problem. Please refresh the page and try again.