Dan Harmon Criticizes Season 4 Of Community, Calling It An Unflattering Impression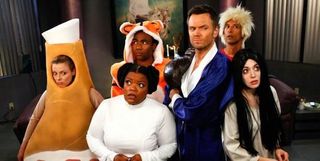 In the past, I've likened the fourth season of Community as the kind of season we see from a beloved sitcom that's begun to show its age, only in the case of Community, at Season 4, the show should actually still be reaching its prime. But with series creator Dan Harmon cut loose after Season 3, and new writers brought in to replace him, the humor and originality began to slip sooner than it might have at that point in its run. Listening to Dan Harmon talk about Season 4 on his recent podcast, during which the recently-returned Community showrunner admits to watching Season 4 and describes it as an unflattering impression of his work, I'm wondering if maybe fan-fiction is a better analogy to make, at least from his perspective.
I'm sure some authors are ok with fanfiction, but in the case of these short stories and sagas written by fans, they aren't being released in any official capacity (Amazon's new platform mostly excluded). I can also understand why an author might be put off, seeing other people dabbling in their world, creating new stories with their characters and in some cases, not doing the best job at it. It's with that in mind that I consider what Dan Harmon might have thought while watching Season 4 of Community. What was it like seeing his characters play out stories he had nothing to do with? To put it mildly, he doesn't offer any praise for the fourth season. Via EW, Harmon discussed watching Season 4 during his typically candid Harmontown podcast.
"I guess I already knew this but, apparently I'm quite a genius," he told his audience. "I think I feel pretty comfortable expressing any like 'not my cup of tea' about it because - this has been expressed a thousand times over - it's obviously not somebody doing what they do and trying really hard to make people happy. It's very much like an impression - and an unflattering one."
Harmon goes on to mock the writers, describing their season as, "It's just thirteen episodes of 'I'm Dan Harmon! Die Hard! Her-her." After which he actually lets up a bit, and talks about how the new showrunners (David Guarascio and Moses Port) realized they were in for it when they went to Comic Con and saw how incredibly devoted some of the fans were.
My automatic reaction is to consider that Guarascio and Port took on the challenge because, for one thing, they presumably thought they could handle it and for another, it's a professional writing job running a series that's on the air. Those aren't as easy to come by as no one assumes. Considering neither Guarascio nor Port is Dan Harmon, doing an impression of his work may have been the best anyone could have expected. And maybe somewhere deep down, Harmon realizes that because he turned his candor toward Sony Pictures Television, the studio that produces Community, and talked about how he believes the machine thinks that all creative people are interchangeable.
Thinking that Community could have been Community without Dan Harmon was a mistake, assuming that's what Sony and/or NBC thought. Regardless, it's been rectified. Harmon is coming back as showrunner for Season 5. But he hasn't stopped making waves. In response to some of the backlash he received over his podcast, he issued a semi-apology, Tweeting:
You can download the full podcast at iTunes (opens in new tab).
Kelly joined CinemaBlend as a freelance TV news writer in 2006 and went on to serve as the site's TV Editor before moving over to other roles on the site. At present, she's an Assistant Managing Editor who spends much of her time brainstorming and editing feature content on the site.
Your Daily Blend of Entertainment News
Thank you for signing up to CinemaBlend. You will receive a verification email shortly.
There was a problem. Please refresh the page and try again.