Daredevil, Luke Cage And More Marvel Superheroes Getting Netflix Original Series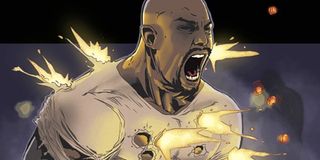 With Agents of S.H.I.E.L.D. still plugging away as a modest success on ABC, Marvel Studios is doubling-- no, make that quadrupling-- down on television as the future of their characters onscreen. The Walt Disney Company (which owns Marvel Studios) and Netflix today announced a blockbuster deal that will bring four original series to the online service, each about a different Marvel hero. The lucky chosen ones are Daredevil, Jessica Jones, Iron Fist and Luke Cage, each of whom will be at the center of their own 13-episode series. The whole effort will culminate with "The Defenders," a mini-series that brings together all four and "reimagines a dream team of self-sacrificing, heroic characters."
If you're having deja vu, that's because this is essentially the small-screen version of what the Marvel Cinematic Universe spent the last five years doing, making stand-alone films about Iron Man, The Incredible Hulk, Captain America and Thor and then uniting them all for the mega-blockbuster The Avengers. None of the four characters now heading to Netflix have the name recognition of those four big heroes, which is why the small-screen treatment for them makes sense.
Word of this massive plan first leaked last month, when Marvel was shopping the idea to other cable channels, Amazon and even WGN America, of all things. The Netflix deal makes sense under Disney's existing deal with the company, which makes Netflix "be the exclusive U.S. subscription television service for first-run, live-action and animated movies from the Walt Disney Studios" starting in 2016 (that's straight from the press release). Right now you can watch The Avengers, Captain America: The First Avenger and Thor, and while Netflix doesn't release their viewership numbers (because they don't have to), you can probably guess they're successful-- and that marketing a new set of Marvel superheroes to the same people watching The Avengers is a nice way to launch your new series.
As for the characters themselves, you probably remember Daredevil as that superhero who embarrassed Ben Affleck before he moved on to greener pastures; the rights for Daredevil returned to Marvel Studios earlier this year, and studio president Kevin Feige confirmed last month they still had big plans for the blind, justice-seeking superhero. Luke Cage, one of the few African-American heroes in the roster, has been rumored for his own movie for years now, and I'll leave it to more politically minded writers to wonder why Marvel Studios is relegating their one minority hero to the small screen. Jessica Jones is a more recent addition to the Marvel Universe, introduced in the 2001 series Alias, and has worked as a private eye as well as crossing paths with Spider-Man and the New Avengers. And Iron Fist is a martial artist hero first introduced in the 70s, recently a member of the New Avengers as well.
The new Marvel TV series will kick off on Netflix starting in 2015, which also happens to be the year that brings us Avengers: Age of Ultron. If you thought Marvel heroes had already taken over pop culture, just wait-- the last few years have been only the beginning.
Staff Writer at CinemaBlend
Your Daily Blend of Entertainment News
Thank you for signing up to CinemaBlend. You will receive a verification email shortly.
There was a problem. Please refresh the page and try again.