When Daredevil Season 2 May Premiere And How It Relates To Batman V Superman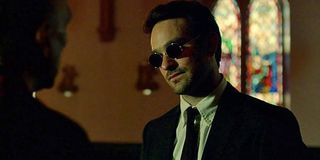 Update: Marvel and Netflix finally released the date and we will be getting new episodes on March 18, 2016! Start getting excited!
We know that Daredevil Season 2 is happening, and happening soon-ish. There have been reports and rumors suggesting that the new season of Netflix's original Marvel series might actually hit the schedule in March of 2016 rather than in April, as it did last year. Now, new reports suggest that Daredevil Season 2 will actually hit Netflix on March 25, 2016. If you recognize that date, it's because it is the same day that Batman V Superman: Dawn of Justice is going to hit theaters in the United States.
Netflix shows often release on Fridays at 12:01 p.m. PT, so for Daredevil Season 2 to hit the schedule then wouldn't be majorly out of the ordinary. In fact, it would be an interesting movie if the Marvel TV series pitted itself opposite the DC Comics/ Warner Bros. big box office endeavor. Comicbook.com sleuthed out the potential premiere date and notes that it could affect the box office of the movie a bit. I'm not super inclined to agree, as there would be plenty of room to binge-watch all 10 episodes of Daredevil Season 2 throughout the weekend and watch the movie in theaters, too. There's probably even room for some popcorn.
What premiering Daredevil on the same day as Batman V Superman: Dawn of Justice does do is cheekily nod at the rivalry between intense Marvel and intense DC fans. We recognize that a lot of people are interested in watching both Daredevil and Batman V Superman or already had plans to watch only one or the other this spring, but Marvel and DC, Netflix and Warner Bros already know that. Putting them out on the same day is more like two friends messing with one another than anything else. If March 25, 2016 ends up being the date for Daredevil Season 2, I wholeheartedly approve.
It's a move that likely would not be made if Daredevil was a movie and not a TV series. The first week at the box office is generally the biggest for a new movies, and I don't see either comic book company getting cheeking when millions and millions of dollars are on the line. As it stands, however, those watching Daredevil Season 2 have likely already subscribed to Netflix. So the only money you'll have to shell out extra that weekend would be for Batman V Superman: Dawn of Justice, in theory. (Again, unless you pan to dig into some popcorn.)
Despite the fact that Daredevil Season 2 is already off of the ground, Netflix and co. have kept a lot of the details surrounding the new season under wraps. We do know the series has a new showrunner and that characters like The Punisher (and we might even see a legendary scene) and Elektra are being added for Season 2. You can find out more with our what we know guide.
While we wait for official confirmation, here's what else is heading to TV this winter and spring.
Amazing Race & Top Chef superfan with a pinch of Disney fairy dust thrown in. If you've created a rom-com I've probably watched it.
Your Daily Blend of Entertainment News
Thank you for signing up to CinemaBlend. You will receive a verification email shortly.
There was a problem. Please refresh the page and try again.