David Fincher Is Working On A New Netflix Show That Sounds Exactly Like Criminal Minds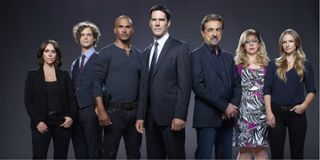 David Fincher has created on of the most popular series for Netflix in the past few years. His House of Cards has won the streaming service awards and put it at the forefront of original content on streaming services. Now, he's working on a new show for Netflix, and the idea may sound a bit familiar to you.
According to The Hollywood Reporter, David Fincher, along with Charlize Theron, is bringing the show Mindhunter to Netflix. The show is based on the 1996 book Mind Hunter: Inside the FBI's Elite Serial Crime Unit by John E. Douglas and Mark Olshaker. The book tells the true story of Douglas' work as an FBI profiler of serial killers and violent sex offenders.
There's just one problem with this idea. It's essentially the same plot as the long-running CBS television show, Criminal Minds.
For the uninitiated, Criminal Minds follows a team of FBI profilers who specialize in analyzing the patterns of currently active, you guessed it, serial killers and violent sex offenders. Instead of looking at crimes from the victim's point of view and trying to find their "unsubs", or unknown subjects, that way, the group focuses on profiling the criminal based on how they find and treat victims.
This process of profiling is one that was studied at length by John E. Douglas during his time as an FBI agent. He taught applied criminal psychology at the FBI Academy in Quantico, to field agents and police officers from around the country. Douglas created and managed the FBI's Criminal Profiling Program and spent years traversing the country interviewing the nation's most dangerous and infamous serial killers.
David Fincher's new show, Mindhunter, may have direct inspiration from John E. Douglas' book, but Criminal Minds certainly uses his work in spirit. The first profiling team that Douglas was a part of in the FBI was the Behavioral Sciences Unit (BSU), which is nearly identical to the Criminal Minds team, who work in the Behavioral Analysis Unit (BAU).
Mindhunter will have to find a substantial way to distinguish itself from Criminal Minds, especially considering that that program is now in its eleventh season. It would seem that original stories for a procedural of this type would be rather hard to come by. And, considering how intense Criminal Minds can get, it might even be hard for Mindhunter to successfully top it in the "OMG, did they really just show that!" department.
This could be bad news for Netflix, since every subscriber who watches the CBS show will likely be tuning in. If they get even the barest whiff of "Man, I've seen this before," from Mindhunter they will probably tune out for a familiar old favorite.
It's still somewhat early in the development process for Mindhunter, so we don't have any casting information, or know if there will be a focus on one lead in the story or a team of profilers, like on Criminal Minds. All we can hope for is that David Fincher and his producers are keeping an eye on the senior profiler program and are working like the devil to make sure their product is different enough.
Bachelor Nation, Gilmore Girl; will Vulcan nerve pinch pretty much anyone if prompted with cheese...Yes, even Jamie Fraser.
Your Daily Blend of Entertainment News
Thank you for signing up to CinemaBlend. You will receive a verification email shortly.
There was a problem. Please refresh the page and try again.