Dean Winters To Guest Star As Will Arnett's Brother On NBC's Up All Night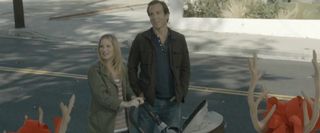 One of the best new shows of the season is NBC's Up All Night. The network raised more than a few eyebrows with their mid-season schedule (opens in new tab) but one move that shouldn't be scrutinized was moving the new sitcom to Thursday night. The show is a much better fit with 30 Rock, Parks and Recreation and The Office than Whitney. To be fair, smelly gym socks are a better fit for that comedy line-up than Whitney. Either way, it's nice to see NBC throw some support behind at least one good show and, with the latest guest star announcement, it's only getting better for Up All Night. It seems Will Arnett's Chris has a brother.
TVGuide (opens in new tab) reports that Dean Winters will be playing the fraternal addition to the series. The article doesn't specify whether Winters' Casey will show up once or recur but since they failed to mention it, that probably means it's simply a single episode appearance. For now that is, because with Winters' track record, especially as Liz Lemon's on again-off again boyfriend Dennis Duffy on 30 Rock, it's pretty much guaranteed to be hilarious. In fact, Winters' Duffy figures quite prominently in Katey's article on the best episode of 30 Rock, "Tracy Does Conan" (opens in new tab) and with good reason, since he's easily my favorite recurring on that show. How can you not love the beeper king? It's kind of funny since Will Arnett also plays a recurring character on the Tina Fey sitcom and his Devon Banks (opens in new tab) is scheduled to make another guest appearance this season.
With what we know of Arnett's character on Up All Night, him being an ex-hockey player and a man's man, it's probably safe to say that their sibling relationship will swing into rivalry. I'm only speculating but I can definitely see these two roughhousing - I mean just look at Winters' amazing Allstate Insurance ads (opens in new tab) and tell me him and Arnett as brothers aren't going to get physical. Anyway, no specific date on when 'Mayhem' will appear on the series but it's sometime later this season. I'm looking forward to it. As for now, this week's Christmas episode, titled "First Christmas," features it's own special guest stars in Jason Lee and Blythe Danner. Here's a preview (also from TVGuide (opens in new tab)) that has our leading couple run into some annoyingly festive neighbours. Sadly the guest stars are not featured, so it looks like you'll have to tune in...
Up All Night currently airs Wednesdays at 8 p.m. ET on NBC. Come 2012, it will be in its new slot, Thursdays at 9:30 p.m. ET. It stars Will Arnett, Christina Applegate and Mya Rudolph. Created by Emily Spivey.
Your Daily Blend of Entertainment News
Thank you for signing up to CinemaBlend. You will receive a verification email shortly.
There was a problem. Please refresh the page and try again.