Defiance Comic-Con Panel Live Blog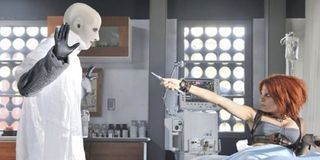 With a successful game, a second season order and an obsessive fanbase, SyFy's Defiance accomplished quite a bit in its only season. Fortunately or unfortunately, however, the show would seem to be in quite a bit of flux. Major, republic-altering things happened during the past few episodes, and nothing about the town of Defiance will ever quite be the same.
Ideally, we'll at least get a sneak peek at where the offering will go moving forward during today's panel, but until the cast sits down and starts chatting, there's no way to know forsure. Here's the official description…
10:20 AM: We're just minutes away from starting. The house is completely packed, and there are at least two women dressed up as Stahma Tarr and several more as Irisa.
10:29 AM: The crowd was just informed Defiance will give away free autographed swag to anyone who tweets their favorite panel moment using "#DefianceSDCC". Not surprisingly, this announcement played very well.
10:32 AM: Here is who is here: Kevin Murphy (showrunner), Grant Bowler (Nolan), Julie Benz (Amanda Rosewater), Stephanie Leonidas (Irisa), Tony Curran (Datak), Jaime Murray (Stahma), Jesse Rath (Alac), Rob Hill (producer of the game).
10:35 AM: Kevin Murphy says the goal of the season finale was to "reset every single character". He wanted to mix up the chess pieces and let fans see how characters would do in with different responsibilities. Amanda is a new line of work. Stahma is now the head of the Tarr family, and Irisa's fate will be "front and center of the Season 2 premiere", which will bring up "many, many more questions."
10:37 AM: Grant Bowler has a thick accent. He sounds nothing like Nolan. Credit to his voice work.
10:38 AM: Jaime Murray says she's hoping her character Stahma has gotten a taste of freedom in Defiance. She's seen how women in other culture behave, and she has no interest in being put back inside a cage.
10:40 AM: Is Kenya dead? "Just because you kill someone doesn't mean you never loved them"-- Jaime Murray. They certainly seem to be implying the mayor's sister is dead.
10:42 AM: Lots of talk about the awkward bath scenes featuring Stahma and Alac Tarr. They tried to make them as awkward as possible, take after take pushing the incestuous undertones a little further. As anyone who has seen the show knows, that awkwardness definitely came through.
10: 44 AM: Season 2 will feature at least Los Angeles and perhaps a few other towns. Nolan will be on the road, and we'll get a much better sense of the world outside Defiance's borders.
10: 46 AM: Tony Curran has a very thick Scottish accent and sounds in no way like Datak. Curran is unwilling to talk in depth about what his character will go through during Season 2, but he's "unable to bathe with his wife". His time away from Defiance will "hopefully change the way he thinks".
10: 50 AM: Everyone is talking about what a female-driven show Defiance is.
10: 51 AM: There will be two new characters from the Earth Republic on the show in the upcoming season: a viceroy who is a "grand old man of the republic", and a temporary mayor who, together, have some terrible plans for the town of Defiance.
10: 54 AM: Most of the characters (who are aliens) are in make-up for about two hours before shooting, but unfortunately for Trenna Keating (Doc Yewill), it takes her about four hours. Even worse, she can't eat or drink anything once the make-up is on.
10: 58 AM: Sukar was originally supposed to die during Season 1. His character arc was destined to end, but actor Noah Danby was so well liked by producers and so well-liked by his fellow castmembers that they re-wrote the overarching outline to keep him around. He will officially be back with the show in Season 2 in June of 2014.
10:59 AM: The video game will feature a new major character from the TV show that will debut. Also, the storyline from the show will continue over the next year and lead directly into the season premiere.
11:02 AM: Doc Yewill will be featured more prominently in Season 2. Judging by fan reaction, she's VERY popular.
11:06 AM: Tony Curran's mother called him after the first episode asking why the producers made Datak wear a fake nose. He had to tell her, sheepishly, that he didn't wear a fake nose--just the one she gave him.
11:12 AM: Dozens of fans just lined up to ask questions during the Q&A portion. Hilariously, one of those people wound up being composer Bear McCreary who asked if he would be invited back to do the music again for Season 2. The answer is apparently yes, which is good because he's excellent at his job.
11:14 AM: Jaime Murray likes working in the Sci-Fi genre because it's easier to find women who aren't just wives or love interests or way to "add color" to male characters.
11:17 AM: There will never be any kind of crossover between Defiance and other SyFy Network shows.
11:18 AM: Some guy just bitched at the panel for openly discussing spoilers since he hasn't finished Season 1. Why he thought a panel discussion about a show would be spoiler free is beyond me, but I'm not sure there's a single person here who felt bad for him.
11:25 AM: And we're out. Thanks for tuning in guys.
Enthusiastic about Clue, case-of-the-week mysteries, the NBA and cookies at Disney World. Less enthusiastic about the pricing structure of cable, loud noises and Tuesdays.