Defiance Review: Season 2 Is Way Too Much Of The Same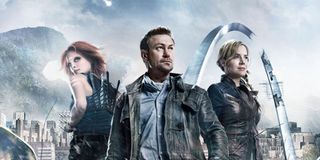 Defiance ended its first season with a finale that left its characters scattered. Some were imprisoned, others were traveling far from the town of Defiance. One was even dead. This opened up opportunities for Syfy's drama to explore the world outside the former St. Louis in Season 2. If you were wondering what more of this alien populated, wild west of a world looks like, you do get a taste of the outside world during the premiere, but Defiance spends most of its first three episode reestablishing patterns and returning its characters to their former roles.
Season 2 doesn't pick up right after Season 1 ended. Instead, it skips ahead some months. The Earth Republic is still in control of Defiance. Nolan (Grant Bowler) is still on the road searching for Irisa (Stephanie Leonidas). No longer the mayor, Amanda (Julie Benz) is taking care of her missing sister's business in her absence. Nearby, Datak Tarr (Tony Curran) and Doc Yewll (Trenna Keating) are imprisoned, and Stahma Tarr (Jaime Murray) and Alak Tarr (Jesse Rath) are taking care of the family business. Nolan and Irisa's on-the-road story and Stahma and Alak's criminal enterprises show promise early on, yet Defiance manages to shoot itself in the foot early in Season 2, returning to the format that the show used during its first round on air.
Nowhere is this more noticeable than with Tommy LaSalle (Dewshane Williams). The young sheriff came into his own after Nolan split, taking over the tracking and general lawkeeping duties in Defiance in his absence. Yet, the second Nolan and Irisa return to town, he loses his badge to his former boss. Obviously, he's stung by Amanda's and the E-Rep government's decision, yet he acquiesces to his old role. It's the first clear clue that the show plans to return to the same format it lived and died by last year. So much for new and interesting directions.
Defiance's first season was peppered with exciting moments. However, it often resorted to random and sometimes unnecessary gunfights with the oft-boring Nolan and Irisa leading the charge. Additionally, the drama's been known for its two steps forward, one step back antics, frequently taking characters in new directions, only to backtrack. Frustratingly, Season 2 offers much of the same.
This isn't to say we don't see new sides of any of our characters. Defiance also offers a slew of great female characters, and Amanda and Stahma have both grown into new people out of necessity in the months since Defiance last aired. Stahma's always been sneaky and calculating, but this time around, she actually has the opportunity to exert power in public ways. She's one of the most interesting characters on the series, and if Defiance just gave her the reigns to be the big, cold, brilliant baddie we all know she could be, the Syfy drama would be a little more of a draw.
The community of Defiance is currently under siege. The town has been forced to change, thanks to the high-pressure demands of the E-Rep community. The city is at its brink, emotionally and physically. If Defiance wants to survive during Season 2, something will need to change. Regardless, in the first three episodes the network made us privy to, that hasn't happened. Here's to hoping sticking the season out will yield more impressive results.
?Rating:
Syfy's Defiance will begin airing its second season on Thursday, June 19 at 8 p.m. ET. You can check out more about the series and its companion video game over at Defiance's site.
Reality TV fan with a pinch of Disney fairy dust thrown in. Theme park junkie. If you've created a rom-com I've probably watched it.
Your Daily Blend of Entertainment News
Thank you for signing up to CinemaBlend. You will receive a verification email shortly.
There was a problem. Please refresh the page and try again.