DirecTV Has Started Production On Rogue Starring Thandie Newton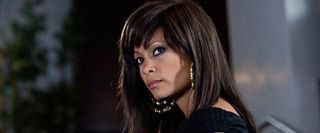 DirecTV is starting production on its new crime drama Rogue, which started filming in the ever-moody and popular production city of Vancouver, Canada this week. The series, which stars Thandie Newton and Martin Csoskas, builds on DirecTV's new move into original programming, They've already brought a few new series to life and also saved cancelled series like Friday Night Lights.
Rogue follows a woman -Grace, played by Newton - who is both an undercover detective and involved with a crime boss who should be her enemy. The death of her son leaves her feeling conflicted and confused as she deals with her own feelings of guilt over her own part in his death and her uncertainty regarding her relationship with Csoskas character, Jimmy. It's described as a character driven drama that explores the complexities of relationships as well as the inner struggle face by both members of the forbidden couple.
DirecTV has ordered 10 episodes of the series and plans to air them next summer, which gives non-DirecTV subscribers plenty of time to switch over, should this or any of the rest of their programming be of enough interest to get them there. The more service providers like DirecTV and streaming services like HULU and Netflix delve into the world of original programming, the more I have to wonder how much division can take place before the viewers' frustration boils over. You can watch some show here, and some shows there; you have to pay for several services and you still might not get everything that interests you. It all leaves me to wonder where the future of television really lies. For now, all I can say is the future of this particular series is at DirecTV, along with several others.
Your Daily Blend of Entertainment News