Downton Abbey's Season 3 Finale Draws Over 8 Million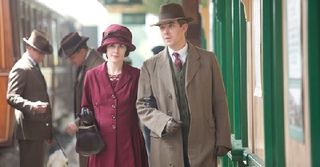 The third season finale of Downton Abbey may have been seriously depressing for viewers, but the ratings have to be bringing smiles to PBS. The hour-and-a-half-long final episode, which aired this past Sunday, brought in bigger numbers than last season's finale. If you haven't watched it yet, warning: there are spoilers ahead.
Deadline says 8.2 million viewers tuned in to catch what turned out to be a shocking end to the season. That's up from the 5.4 million who caught the end of Season 2. It's been a good season for Downton, at least ratings-wise. For the characters on the series it's been rather a rough year; two main characters lost their lives due to the departure of cast members. First viewers were left in shock and tears as the painful death of Lady Sybil played out on the screen, and then in the last moments of the finale we watched Matthew lose his life as well, minutes after meeting his newborn son.
At least the ratings haven't been depressing. Downton opened the third season up, with 7.2 million viewers catching the premiere. That too was an increase from the 4.2 million for the second season opener. Word of Downton's renewal for Season 4 came in November and not long after we learned that Dan Stevens would not be returning to play Matthew. The finale this past Sunday confirmed what UK audiences already knew at Christmas; Stevens' character Matthew is irrevocably gone.
What the jaw-dropping season ending on the heels of an already sad season will mean for the ratings when Downton returns will be interesting to see. Will the series lose fans after bidding adieu to two major characters? Or can it survive the loss of Sybil and Matthew? I for one, will be tuning it as long as Maggie Smith sticks around to drop brilliant one-liners as the Dowager Countess.
Your Daily Blend of Entertainment News