A&E Cancels Dog The Bounty Hunter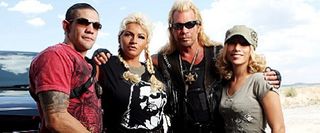 The man with the monumental blonde mullet that perhaps defines mullets is no longer going to be a fixture on A&E. Dog the Bounty Hunter has been cancelled after eight seasons, leaving television an empty, mulletless void to fill - where criminals will not be brought to justice by a black vest-clad man in shades.
TMZ has word that Dog won't see a Season 9, reportedly due to creative differences. That's the usual term used when the real reason isn't going to be revealed. There's any number of guesses as to why A&E is saying goodbye to Duane "Dog the Bounty Hunter" Chapman. For one thing, there's the recent death threats against Dog and his family, that might have been enough reason for him to want to lower his profile a little bit.
There's also been drama in the family, apparently between Dog's two sons and his wife, stepmother to the two boys, that may have made the future of the show somewhat unsure. What is certain is that Dog is not going to be back on the air, leaving him plenty of time to bring Hawaii's criminal element to justice as only he can. Or, perhaps to retire, get a haircut, and just enjoy the fact that he lives in Hawaii. That's what I would be doing. Especially the haircut.
Dog the Bounty Hunter has been a big hit for A&E and made the man himself a household name; he even had a True Hollywood Story installment made about him. Now that's stardom. After eight seasons, however, it might well be time to take his life off camera – not that he has a choice now.
Your Daily Blend of Entertainment News
Thank you for signing up to CinemaBlend. You will receive a verification email shortly.
There was a problem. Please refresh the page and try again.