Exclusive Hell On Wheels Clip: Watch Cullen Plan His Escape!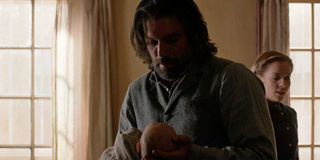 Hell on Wheels has often been a thoughtful show, but one week into Season 4, its undertones are a little more family-oriented. We've seen what lead Cullen Bohannon has been willing to do to avenge the violence enacted against his own clan, but we haven't really seen him take on the role of father, advisor and protector before. In this exclusive clip from tomorrow's episode, courtesy of AMC, we see a more tender side to the railroad leader.
In the clip, Cullen is planning his escape from the Morman compound that has housed himself, his new wife and his even newer baby. The three of them seem to be safe within the high walls of the establishment, but if you've been keeping tabs on the Hell on Wheels cast, you may already know that Cullen's nemesis the Swede has created an elaborate ruse to run the compound. Due to his power, the commune has held Cullen captive while he fulfills his debts. Yet, he's still itching to get back to the railroad, where he has power and a much more exciting life.
What's been most surprising about Cullen's transition into compound life is his willingness to put two people he barely knows ahead of his own needs and wants. He willingly married Naomi to save her from shame and ruin, and because it was the best play he could possibly make given the circumstances. He's done his best not to rock the boat with anyone in the community, excepting the Swede. He likely could have escaped from the commune during the long months he spent there, but in the clip he seems hellbent on bringing Naomi and the baby with him, even holding his baby more tenderly than I would have thought possible as he explains his plan. She, on the other hand, isn't quite as certain, questioning whether or not they ought to go, but willing to trust whatever decision her husband decides to make. Cullen's not a particular feeling individual, but he is a duty bound one, and he and Naomi's symbiotic relationship works, even though he'd likely prefer a more fiery lady and she'd rather like a more religious one.
Hell on Wheels is often about gun-toting violence, peppered with range wars and railroad building. However, Season 4's Morman commune plotline has allowed us to take a step back and look at yet another aspect of life in the early West. While the Swede's antics have begun to try my patience, it's still striking that Hell on Wheels manages to be so richly layered. If you're not already watching, Season 4 only recently started, and now is as good a time as any to start tuning in.
You can catch new episodes of AMC's Hell on Wheels on Saturday nights at 8 p.m. ET. Recent episodes can be viewed over at AMC.com.
Amazing Race & Top Chef superfan with a pinch of Disney fairy dust thrown in. If you've created a rom-com I've probably watched it.
Your Daily Blend of Entertainment News
Thank you for signing up to CinemaBlend. You will receive a verification email shortly.
There was a problem. Please refresh the page and try again.