Fargo Review: FX Drama Is Violent, Suspenseful And Aw Geez, Darkly Funny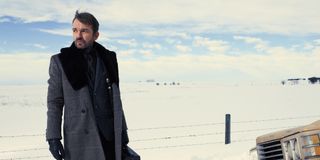 Joel and Ethan Coen's 1996 film Fargo set the bar high for a TV adaptation that would come nearly two decades later. Noah Hawley's FX drama takes the right approach from the start in not trying to re-adapt the same story. Instead, FX's Fargo uses a similar snowy Minnesota backdrop to tell its own "true crime" story, paying homage to the Coen Brothers' grim but darkly funny film in the process. In that respect, the anthology series gets off to a fantastic start, introducing us to an ensemble of characters whose lives are intertwined by a series of violent events.
Expect violence and blood. Expect random bursts of humor. And don't expect to know what's going to happen next.
You don't need to have seen the 1996 movie to follow FX's new drama. Hawley's followup is set in 2006 in the small town of Bemidji, Minnesota where we're introduced to an entirely new set of characters, one of which is Martin Freeman's Lester Nygaard, a timid insurance salesman who gets no respect from anyone, including his wife. When his nose is broken during an altercation with an old high school bully, Lester's path crosses with Lorne Malvo (Billy Bob Thornton), a menacing and trouble-making man who casually works his way into Lester's situation and turns his life upside down in the process.
Freeman's awkwardness as Lester is almost uncomfortable to watch, but that's hardly a complaint. We're not supposed to feel comfortable with how Lester behaves or reacts to the way people treat him. And on the other side of the coin, there's the confident but bone-chilling Lorne Malvo, whom Thornton plays as a devil (barely) in disguise, encouraging mayhem, participating when it's necessary and then slipping out of the scene to do more harm elsewhere. He knows how to fake nice better than anyone, but he also demonstrates how easily he can get his way with the right words and unnerving glare. Malvo brings out the dark side in Thornton. He's hard to watch at times, and yet you can't take your eyes off of him.
The premiere episode, "The Crocodile's Dilemma" introduces us to some of the characters and delivers a series of violent events, which will set the stage for what's to follow in the episodes ahead. Among the ensemble is Allison Tolman, who plays Molly Solverson. If Lester Nygaard is the Jerry Lundegaard of this story, then Molly is Margie Gunderson, or the closest thing to her. Molly isn't married or pregnant. In fact, not much about her personal life mirrors Frances McDormand's excellent crime-solving character, but it's evident that Molly is channeling Margie's demonstrated nature as a good, honest and extremely underestimated detective who's determined to get to the bottom of this mystery, despite numerous obstacles thrown in her path. In that respect, Tolman plays this role beautifully.
In her crime-solving efforts, Molly's path crosses with Duluth deputy Gus Grimly (Colin Hanks), a single father (to Joey King's Greta) and cop who's haunted by a choice he has to make near the start of the story. Filling out the cast is Bob Odenkirk, Kate Walsh, Adam Goldberg, Russell Harvard, Oliver Platt and Keith Carradine. Odenkirk appears on occasion as a clueless law enforcer, while Kate Walsh delivers a humorous portrayal of an ex-Vegas stripper who's grief-stricken (sometimes) over the death of her husband. Goldberg and Harvard play two guys from Fargo who get involved in the story due to an organized crime connection with one of the victims. Carradine plays the diner-running father to Molly Solverson. Finally, there's Platt, a supermarket owner who gets involved with Lorne Malvo due to a blackmail situation.
In weaving together multiple characters, all of whom are somehow tied (directly or indirectly) to the events of the first episode, Fargo is taking the original film's concept to the next level. It really has no choice but to do that if it wants to stretch this story to cover ten episodes. It seems necessary to recognize the possibility that this series could go off the rails with its plot as we trudge deeper into this drama from one episode to the next, but the first four episodes succeed in finding a really nice balance between the ongoing crime investigation and the various characters' stories.
Not trying to re-adapt the film's original story is one of the best things this series could have done, as it doesn't force us to draw comparisons to the original film, as it relates to the characters or how the story plays out. Fargo isn't a whodunnit mystery. The suspense exists in waiting to see if the crimes are solved and which of these characters will manage to survive this whole ordeal by the final episode.
Fargo follows a similar snow-covered path as the original film, complete with suspense, drama, dark humor and a sprinkling of "Aw geez" Minnesota niceness, while also serving up its own original story. If I have one complaint -- that isn't really a complaint -- it's that this series feels like a drama perfectly suited for binge-watching. Screening the first four episodes, I wanted to lose myself in the story completely and not come out of it until I knew how it ended. Wanting more is a good thing, though I'm curious to see how the tone and rhythm of this drama work from one week to the next. In the meantime, factoring in the dark nature of the story, the twisted humor and the violence, Fargo is well suited for FX, and worth watching for those who like their drama bloody, gritty and a little bit funny all at once.
Assistant Managing Editor
Kelly joined CinemaBlend as a freelance TV news writer in 2006 and went on to serve as the site's TV Editor before moving over to other roles on the site. At present, she's an Assistant Managing Editor who spends much of her time brainstorming and editing feature content on the site.
Your Daily Blend of Entertainment News
Thank you for signing up to CinemaBlend. You will receive a verification email shortly.
There was a problem. Please refresh the page and try again.