Summer Glau Joins Arrow As A Recurring Character From The DCU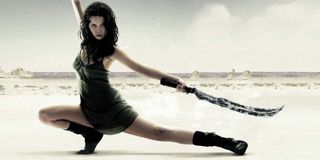 With Comic-Con only a week away, the latest piece of Arrow casting news came as more than a little surprise. And not just since the show is attending or even that it follows the exploits of a superhero but because the amazing addition is certainly no stranger to 'geekdom' and imagine the reception the announcement would have received if made during the Arrow panel. Do you think The CW knows that Summer Glau is kind of a superstar when it comes to genre properties and news of her joining any series, let alone one based on a popular DC property would be a welcome announcement at the world's biggest comic book convention? But why not spoil all the fun? Right?
Let's not let the silly timing of the news take away from how great the casting could be for the action adventure series. THR reports that Glau has been brought into Arrow for the recurring role of Isabel Rochev. She might not be famous in the DCU, however, Rochev's backstory is very interesting and I'm curious to see whether The CW uses her as a straight villain or perhaps a complicated anti-hero and love interest for Stephen Amell's Oliver. In the comics, Rochev has a complex, obsessive relationship with the Queen family, typically linked to Ollie's dad Robert. Her character was born a slave in a small Eastern European village but she eventually rose to power player in Star(ling) City, even running Queen Industries for a time.
She's also a certified crazy person, often covering her face with a mask, wearing Mrs. Queen's jewellery and wanting nothing more than to see Robert's heir killed. I'm not sure how much of this will make it into the series, especially since Glau's casting makes the (obsessive) romantic link to Robert unlikely considering the age gap. But I could see her version of Isabel, described in the article as the "enigmatically beautiful and dangerous" vice president of acquisitions at Stellmoor International, take the same stalker-ish liking for Oliver as her company tries to take over Queen Consolidated. Oh, and the eagle-eyed might have already seen the name Isabel Rochev in Arrow since she's one of the 'city failures' on the list. Okay. So maybe she is a full on villain.
Still, I wouldn't expect to see the mask make much more than a cameo and also fully expect Isabel to be a physical, not just business, threat (see video below). You don't cast the Firefly and Terminator: The Sarah Connor Chronicles actress just to look pretty. Although, she can easily pull that off as well. As you can tell, I'm a big Summer Glau fan. Look for her to show up in the second season premiere. Arrow returns on Wednesday, October 9 at 8 p.m. ET on The CW.
Your Daily Blend of Entertainment News