Firefly Fans Angered After Fox Cracks Down On Jayne Hat Sellers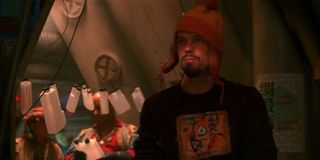 Fox doesn't want you knitting your own hats, Firefly fans. Or, to be more accurate, they don't want you selling your homemade knitted hats. In the past few weeks the giant broadcasting company has started coming down on anyone who makes and sells the hand-knitted orange hat worn by Jayne Cobb (Adam Baldwin) in an episode of the short-lived Fox series that aired over a decade ago.
Yes, over ten years after Fox cancelled Firefly, they've suddenly found themselves concerned that some people might be making a few dollars off of a piece of unlicensed memorabilia. The Jayne hat, which has become something of a symbol of Firefly fandom over the years and inspired those with knitting skills to make and sell them to other fans on sites like Etsy, recently popped up in a licensed version, and just like that Fox is enforcing their copyright. As Buzzfeed notes, that isn't sitting too well with the Browncoats (a nickname for Firefly fans) out there.
In spite of only airing for a few months Firefly gathered plenty of diehard fans. The Joss Whedon series spawned a movie, Serenity, and has recently addressed fan talk of a Kickstarter campaign to make a second film. The original episodes now air on Science Channel, which celebrated the ten year anniversary of the show just this past November. There has been recent talk of a Firefly video game. Clearly, Firefly is as popular as ever, but until now fans were mostly left alone to do their thing.
Then ThinkGeek started selling a licensed version of Jayne's hat, and Fox's legal department started sending cease and desist letters to Etsy sellers, resulting in their shops being shut down. Not surprisingly, fans are not pleased. They've blasted ThinkGeek and Fox for their actions, forcing the website dedicated to selling all things geeky to respond in their defense. They've also decided to donate all of the profits from the hats to a Browncoat-supported charity.
While Fox is well within their legal rights to defend their copyright, it's hard not to see this as another example of a studio simply not getting what fandom is all about. Those making Jayne hats are knitting for love, not money. Not cool, Fox.
Your Daily Blend of Entertainment News
Thank you for signing up to CinemaBlend. You will receive a verification email shortly.
There was a problem. Please refresh the page and try again.