What The Firefly Cast Is Doing Now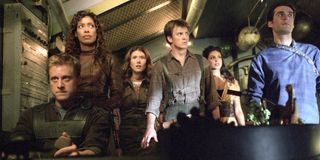 Few shows in the history of media define the term "cult TV favorite" as genuinely as Firefly. Created by Joss Whedon, the space odyssey starring Nathan Fillion as the leader of a crew of outlaws is still heralded as one of the most memorable and exciting sci-fi series of the last few decades, despite lasting only 11 episodes. Why is this?
Upon its premiere in 2002, Firefly was immediately met with nearly universal acclaim from critics for incorporating old school western themes into a 26th-Century, otherworldly aesthetic and without the reliance of an extraterrestrial enemy to sell its sci-fi edge. It is a kind of wonderfully unique blend of ideas that had never been done before and has rarely been done, or at least as well, since. For that reason, the show and its 2005 feature-length follow-up Serenity is still celebrated years later.
Firefly also propelled the careers of many highly successful and widely beloved actors, or remains the one project that some cast members are still best known for today. That being said, what has the crew of Serenity been up to lately?
Nathan Fillion (Capt. Malcolm Reynolds)
Since playing Serenity's no-nonsense captain on Firefly, Nathan Fillion has become nothing short of a "geek god," whose involvement with any project no matter how brief or even the mere idea of him playing a well-known character is a means for celebration. This is why the 49-year-old Canadian actor has become DC's go-to for voicing Green Lantern after years of fan-lobbying, his performance as Neil Patrick Harris' superhero rival stole the show on Joss Whedon's musical web series Dr. Horrible's Sing-Along Blog, and how his romantic crime procedural Castle lasted eight seasons. The most recent of Fillion's many popular credits is ABC crime drama The Rookie and fans are brimming to learn who he plays in 2021's The Suicide Squad, his fourth collaboration with director James Gunn since 2006's Slither.
Gina Torres (Zoë Washburne)
Even before playing Serenity's first mate, Gina Torres was already living the cult sci-fi hero lifestyle, with recurring appearances on Hercules: The Legendary Journeys and a main role on the obscure, short-lived dystopian series Cleopatra 2525, in addition to playing Cas in The Matrix franchise the same year Firefly was cancelled. Her career has since been blessed with an intriguing variety of projects, from voicing Wonder Woman alongside Nathan Fillion in some animated DC ventures, leading a spin-off following her Suits character Jessica Pearson, and playing Arnold Weber's wife, Lauren, on Westworld. She will star opposite Robbie Amell and Lucy Hale in romantic comedy The Hating Game and is preparing to film the pilot for The Brides, a soap opera about the lovers of Count Dracula himself.
Alan Tudyk (Hoban Washburne)
Earning a celebratory following similar to his Firefly co-star Nathan Fillion is Alan Tudyk, who broke out as Serenity's pilot, and Zoë's husband, "Wash" before leading a career that most actors would kill for despite just barely reaching household name status. From playing Steve the Pirate in Dodgeball: A True Underdog Story, one half of Tucker and Dale vs. Evil's titular duo, numerous DC characters (live action and animated), and practically becoming the John Ratzenberger of Disney's in-house animation department, the Emmy-nominee can do, and pretty much has done, it all. At 49 years old, Tudyk is far from done living out the ultimate dream and will actually reprise his Rogue One: A Star Wars story character, reprogrammed imperial droid K-2SO, in an upcoming prequel series for Disney+ centered on Diego Luna as Cassian Andor.
Morena Baccarin (Inara Serra)
Carrying on the tradition of Firefly alums with extensive experience in all things nerds love is Morena Baccarin, whose "will they, won't they?" connection to Nathan Fillion's Mal led to many similar roles as a hero's love interest, such as Batman's former lover Talia Al Ghul in several animated DC films and Wade Wilson's beloved Vanessa in the Deadpool films. Of course, the Brazilian actress has also been known to play the hero (or villain), such as the representative of a mysterious alien race in the 2009 reboot of V, Dr. Leslie Thompkins in Gotham, and the uncredited voice of Gideon, an A.I. character from The Flash. Baccarin will also play the wife of Pedro Pascal and her twin sister in the drama Tropico, but will take the lead of upcoming sci-fi comedy series Home Invasion and survivalist horror thriller Beast.
Adam Baldwin (Jayne Cobb)
For Adam Baldwin, Firefly could be considered the peak of his career, having been acting since the early 1980s and starring in classics like Full Metal Jacket, Wyatt Earp, and Independence Day before starring as badass mercenary Jayne Cobb on the short-lived series. His filmography certainly has evolved into something much nerdier since, if playing a CIA agent on Chuck and lending his voice to many video games (for which he has usurped the role of Green Lantern from Nathan Fillion) is any indication of that. Baldwin's was more recently as a regular on TNT's sci-fi series The Last Ship, starred in two western movies in 2019, and has hosted multiple episodes of Outdoor Channel's weapon enthusiast reality show GunnyTime, originally hosted by R. Lee Ermey.
Jewel Staite (Kaylee Frye)
Before playing Serenity's young mechanic Kaylee Frye, Jewel Staite unwittingly found the perfect way to practice for the interplanetary environment of Firefly on the teen sci-fi adventure series Space Cases on Nickelodeon in the late 1990s. Sci-fi television has continued to be the actress' bread and butter in most cases, having been cast in Stargate: Atlantis not long after Firefly's cancellation, guest starring on Legends of Tomorrow, and landing in a recurring role on SyFy's The Magicians in 2019. She will reprise her role as hacker Kiva Garen on a future episode of NBC's Blindspot and will play a member of a dysfunctional family of lawyers on the upcoming Canadian drama Family Law.
Sean Maher (Dr. Simon Tam)
Sean Maher followed a similar path to most of his Firefly co-stars after playing Serenity's resident scientist Dr. Simon Tam, meaning that the short-lived series would remain his best-known work and and his more notable subsequent roles were similar to that of some of other cast members. In 2012, he reunited with Joss Whedon for the director's modern retelling of William Shakespeare's Much Ado About Nothing, which also starred Nathan Fillion, with whom he also shared the screen for an episode of Alan Tudyk's semi-autobiographical web series comedy Con Man as well as on Filion's current show, The Rookie. In 2019, he provided the voice of Dick Grayson, a.k.a. Nightwing, for Teen Titans Go! Vs. Teen Titans, his seventh animated DC movie, and will next be seen in the horror film Hunting Season, which is currently in pre-production.
Summer Glau (River Tam)
Training in ballet all her life helped Summer Glau's earn her first acting job as a dancer in Joss Whedon's Buffy spin-off Angel, and would also come in handy when he cast her as Simon Tam's ass-kicking, telepathic sister on Firefly. Her ballerina would continue to translate well into further ass-kicking as a cyborg on Fox's Terminator: The Sarah Connor Chronicles, an investigative blogger on another short-lived sci-fi series The Cape, a supervillain on Arrow, and a larper who must fight an actual demon in the 2013 fantasy comedy Knights of Badassdom. Glau has been less active in her acting career as of late to focus on motherhood, but was most recently seen on the Netflix kung fu drama Wu Assassins.
Ron Glass (Shepherd Derrial Book)
When Ron Glass got his first acting job as a guest on All In the Family in 1973, some of his Firefly co-stars had not even been born yet. Prior to playing Shepherd Derrial Book, who you could call Serenity's resident chaplain, the actor rose to prominence from 1975-1982 in his Emmy-nominated role on long-running police sitcom Barney Miller, but most modern audiences not familiar with Firefly may recognize his voice as Susie Carmichael's father in Rugrats and All Grown Up. His more recent notable roles include the 2010 remake of Death at a Funeral (the original of which starred Alan Tudyk) and a reunion with Joss Whedon on Agents of S.H.I.E.L.D. in 2014, but sadly, Glass has since passed away in 2016 due to respiratory failure.
There has actually been much talk about a Firefly reunion off and on for years, which may not be the same without Shepherd, but for fans who wish to see more than the 14 episodes available to stream on Hulu (opens in new tab) and Serenity, it would be a dream come true. For more updates and information on Joss Whedon's brilliant space western saga, as well as more check-ins with the cast members of your favorite movies and TV shows, be sure to check back here on CinemaBlend.
Your Daily Blend of Entertainment News
Jason has been writing since he was able to pick up a washable marker, with which he wrote his debut illustrated children's story, later transitioning to a short-lived comic book series and (very) amateur filmmaking before finally settling on pursuing a career in writing about movies in lieu of making them. Look for his name in just about any article related to Batman.
Your Daily Blend of Entertainment News
Thank you for signing up to CinemaBlend. You will receive a verification email shortly.
There was a problem. Please refresh the page and try again.