The Flash And Supergirl Are Officially Crossing Over, Here's What We Know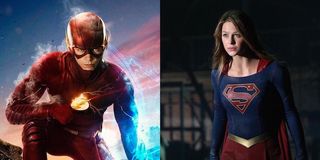 Even before Supergirl debuted on CBS last October, there was talk of whether the series would cross over with the CW DC Comics shows. Unlike Fox's Gotham, the Girl of Steel's series is a full on superhero adventure, so she would be a great fit alongside her fellow crimefighters at the other network, specifically with The Flash, another lighthearted superhero show. Since then there have only been rumors and enigmatic talk from higher ups at both networks about whether a crossover would happen, but now there's official word that Supergirl and The Flash are about to join forces.
It was announced today that The Flash star Grant Gustin will appear in the March 28 episode of Supergirl as Barry Allen. While the details of his appearance are still being kept under wraps, Barry will somehow find himself in National City during that episode and team up with Kara Zor-El. This will be the first time that DC heroes from two separate networks team up while both their shows are airing. While John Constantine did guest star on Arrow last November, his NBC series had already been cancelled at that point after just one season.
This concludes a long running back and forth about whether Flash and Supergirl would ever share a screen. When Supergirl was announced last year, it was reported executive producer Greg Berlanti, who is also an executive producer on The Flash, had it written into his contract the possibility for Supergirl to crossover with Arrow or The Flash (I guess we can add Legends of Tomorrow to that list, too), but a few months later, he said that CBS wanted to keep Supergirl separate for the time being.
However, two months ago, it was rumored a crossover between The Flash and Supergirl was being planned if the latter's first season was extended (which it later was), and when asked about the topic last month, CBS president Glen Geller remained coy and simply said to wait and see what happen. Ideally Flash's appearance on Supergirl is just the first of many times the heroes will get to work together, rather than Constantine's recent appearance on Arrow, which is still being labeled as a one time-only deal.
What will be interesting to see is how The Flash and Supergirl worlds will be connected. When Arrow began in 2012, there were no references to superpowered people in the general population (we know now that many of them were operating in secret), let alone any mention of Superman. It was only after the particle accelerator explosion in Central City that special abilities became widespread known to the public. Then there's the fact that aliens haven't been seen on any of the CW DC shows.
So rather than The Flash and Supergirl existing on the same Earth, it's more likely that Barry will somehow travel to Kara's world, which we'll tentatively call Earth-S. Getting into more fun territory besides fighting bad guys, one wonders if Supergirl will take advantage of Gustin and Melissa Benoist's time on Glee and include some kind of musical moment.
We're still a couple months away from this team-up, but in the meantime fans can catch Supergirl Mondays at 8 p.m. EST on CBS, and The Flash Tuesdays at 8 p.m. EST on The CW.
Your Daily Blend of Entertainment News
Connoisseur of Marvel, DC, Star Wars, John Wick, MonsterVerse and Doctor Who lore. He's aware he looks like Harry Potter and Clark Kent.