Flesh And Bone Review: Starz's New Drama Is Intense But Balanced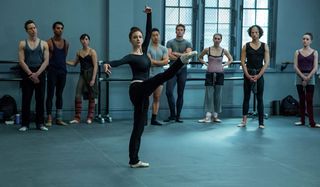 Television doesn't delve into the world of ballet all that often and when it does it's often more about catty drama than the demands of dancing itself. However, in Flesh and Bone, Breaking Bad scribe Moira Walley-Beckett has brought to life a big city story set in the cutthroat world of ballet, where many hopefuls scrape and claw to try to get to the top while others desperately hang on near the bottom of the barrel. It's a world without villains or heroes and it makes for a deliciously dark hour of TV.
Early in Flesh and Bone, a young ballerina named Claire (real-life dancer Sarah Hay, who's quite the admirable actress to boot) escapes her tormented family life to try out for the American Ballet Company, achieving a feat when she makes it on her first attempt. It's obvious the camera is setting her up as a phenomenal dancer, but it's not until later in the episode that we are really given a good look at Claire's talents. Once that floodgate opens, however, she's the target of nearly everyone she dances with.
There's Kiira (Irina Dvorovenko), a principal dancer who is reaching the end of her prime, and Mia (Emily Tyra), Claire's angry roommate who doesn't have perfect feet or the proper form. Both are dealing with the breakdown of their bodies and lashing out in different ways—the former with a drug addiction, the latter by escaping into sex. But they aren't the only characters dealing with pain. Claire's home life has made her fond of bleeding, pushing into old wounds and cutting new one's for herself. Claire's tyrannical boss Paul (Ben Daniels) is still dealing with the loss of his own dancing talent, despite largely being considered one of the best in the business of producing ballets. But despite their flaws, each character keeps pushing forward, mercilessly jumping through hoops and making contrived comments in order to keep their own spot in the giant production.
Because of this, Flesh and Bone features an awful lot of ballet. Real, lovely ballet created on the small screen by dancers turned actors (fans of Center Stage will be glad to see Sascha Radetsky around for this project). The pace and repetition of dancing is seen over and over again with astute attention to detail. Those familiar with the world of dancing or love the stage will enjoy the times the camera lingers on a dancer and his or her movements, but the slow pace and the frequency of the ballet will certainly lend itself to a niche audience—something a lot of prestige dramas struggle with.
Ballet isn't the only thing Flesh and Bone explores. In many ways it's an erotic fairytale. Claire's running away from her deranged brother Bryan (Josh Helman)—the big bad wolf. She's introduced to the world of exotic dancing by her one cocksure ballet peer Daphne (Raychel Diane Weiner)—A "drink me" moment that introduces Claire to a different type of Wonderland.
It's an erotically charged story with notes similar to the 2011 flick Sleeping Beauty, with a young woman exploring her sexuality in unconventional ways. There are fuck me shoes and pick-up lines, scenes set in strip clubs and more shots of people fooling around in odd locations and positions than you might guess. None of the sex has anything to do with ballet, of course, unless you're of the firm opinion that passion can make its way from the bedroom onto the stage.
It's also clear through the first few episodes of Flesh and Bone that Claire doesn't know who she is. She's Claire to some and Clementine to the homeless man who keeps watch over her building (Justified's Damon Herriman in a compelling performance). She's Angel to those at a local strip club and Bambi to the girls who dislike her at school. She's a lot things to a lot of people, and she's breaking forth, trying to come into her own and facing challenges that many would shy from. She's not a headstrong or easily relatable character, but like many ballerinas on the stage, she's fascinating to watch.
Rating:
Sadly, Starz noted a while ago the series was wildly expensive to produce (plus Starz has a lot of other projects in the hopper), which means Flesh and Bone will not be able to get a second season. In some ways this is nice, as it means the tightly woven story will wrap up, hopefully in a way that is completely on point(e). In other ways, leaving Flesh and Bone as an event series is a little sad, as there are so many potential directions for this event series to go and many, many characters for Flesh and Bone to follow. Enjoy it while you can on Sunday, November 8.
Photos courtesy of Starz.
Amazing Race & Top Chef superfan with a pinch of Disney fairy dust thrown in. If you've created a rom-com I've probably watched it.
Your Daily Blend of Entertainment News
Thank you for signing up to CinemaBlend. You will receive a verification email shortly.
There was a problem. Please refresh the page and try again.