Flying Tigers Fighter Pilots TV Series In The Works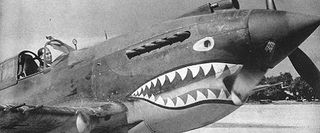 Former HBO Films President Colin Callender is looking to bring the story of America's team of ace fighter pilots, The Flying Tigers, to television. His production company, Playground Entertainment, has announced plans for a ten-part miniseries that will tell the story of the famous flyers.
Although the project also has one of the creators from an HBO series, Bill McDonald of Rome, on board to write and produce, as of now there's no indication that the series would air on that network. Deadline says producers for the show are looking to broadcasters in both the US and China to find a home for the project, which seems an odd choice unless you know the Flying Tigers' history.
The Flying Tigers were a group of volunteers who ran missions against the Japanese in China during the second world war. They were a part of the Chinese Air Force, and later the USAF, and began their missions only a few days after the attack on Pearl Harbor brought the U.S. into the war in December of 1941 under General Claire Chennault. Known for the teeth painted on their planes, they became one of the best and most famous fighter teams of the war.
The Flying Tigers, as the series will be called, is not the first time the story of the fighter pilots has been adapted for the screen. John Wayne starred in a 1942 feature film called Flying Tigers that told their story as well. The new series plans to begin filming towards the end of the year in both China and Louisiana.
Your Daily Blend of Entertainment News