Forget Musical Chairs: Here's Musical Beers With Mark Ruffalo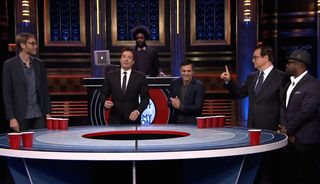 Forget Beer Pong, Jimmy Fallon has set the bar for the newest drinking sensation that is sure to catch on: Musical Beers! The game is simple enough and "collegiate athletes" should have no problem getting the rules down before they hang up the ping pong balls. It seems that Fallon can take just about any run of the mill gag and turn into gold using his comedic alchemy. The willingness of his guests and the sheer enthusiasm of his nightly audience genuinely add to the overall Tonight Show experience.
In the spirit of gamesmanship, Jimmy has an elaborate circular table setup with cohorts Stephen Merchant, Tariq, special guest star Mark Ruffalo and Tonight Show announcer Steven Higgins. With master DJ Questlove on the turntable, the game is played just like musical chairs except once the music stops, it is a mad dash for the nearest red Solo cup of beer. Those left empty-handed are extricated from the shenanigans and doomed to wait until the next game. Sounds easy enough? It is a winner takes all battle for supremacy as Fallon and his panel do their best to see who takes the crown of Musical Beers champion. It is no wonder things got so real when you have The Avengers top dog taking on the king of late night.
While it is not going to get its own series the way Fallon's popular staple "Lip Sync Battles" just did, this new take on a classic game could be a game changer for the college crowd. After all, you don't need much to get a game going besides someone with a valid ID of course! The advent of YouTube and clips going viral is sure to make "Musical Beers" a fun game for all and a new spin on Beer Pong. Not to be dismissed, Beer Pong actually escalated into a real competitive sport (opens in new tab) with professional competitions and serious prize money. However, their is nothing funnier than drunken people trying to consistently walk in circles to win a game. It is only a matter of time before Musical Beers catches on and is a party staple.
Fallon's golden touch to late night has brought guests into a more interactive and less traditional talk show format since its inception. And guests as well as the fans seem to really love the interaction between Fallon and the guests in "real life" situations. It adds to the camaraderie of celebrity and makes viewers feel like their favorite movie and TV stars are really just regular people. Kudos to Jimmy for coming up with a new way for us to drink and get the spins, even without getting a buzz.
Your Daily Blend of Entertainment News
Your Daily Blend of Entertainment News
Thank you for signing up to CinemaBlend. You will receive a verification email shortly.
There was a problem. Please refresh the page and try again.