A Former Character Returns To True Blood For Season 5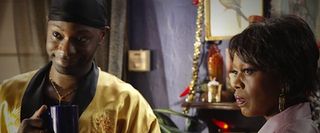 With so many current and new characters set to appear in True Blood in Season 5, it's hard to imagine there's room for any more people to return. And yet, even with the return of Russell and the introduction to new characters played by the likes of Chris Meloni and Peter Menseh, this latest bit of True Blood news is especially exciting, if only because the actor who's set to come back didn't get nearly as much screen-time as I would have hoped when she last appeared in the show.
Less vague spoilers ahead!
Alfre Woodard's character Ruby Jean Reynolds only appeared in three episodes of True Blood, back during the series' third season. Looking back, it seems like Lafayette's mother was mainly used as a way to bring Jesus and Lafayette together. Jesus was Ruby's nurse at the mental hospital where she was living. It seemed like once Lafayette and Jesus were a full-on thing, Ruby disappeared. But from what Entertainment Weekly is reporting, that Woodard is returning to the HBO vampire drama series for Season 5. The site doesn't give any specifics on the circumstances that bring Ruby back into Lafayette's life, but they do report that she'll be appearing in the fifth and sixth episodes of the season, and possible more.
Lafayette's had a rough time of it lately. Well, not lately. He's pretty much always had a rough time of it. Like his cousin Tara, it seems like he's spent more time on the series being scared than anything else, but last season, he and his boyfriend were dabbling in some dark stuff. It should be interesting to see where things pick up for him and how his mother factors into it. And Woodard's return is especially good news as it means a bit more talent among this already-top-notch cast.
Your Daily Blend of Entertainment News
Thank you for signing up to CinemaBlend. You will receive a verification email shortly.
There was a problem. Please refresh the page and try again.