Fuller House Is Bringing Back A Beloved Side Character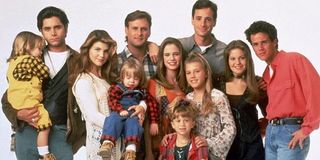 The Full House spinoff, Fuller House is making serious progress as it gears up for its release on Netflix next year. And as the majority of the major original cast members have guaranteed their return, we're now getting word of more minor character reprisals. One of which is D.J. Tanner's first boyfriend, beloved by the entire family and fan favorite, Steve Hale.
Steve is back, and hopefully D.J. Tanner has stocked her fridge accordingly. Scott Weinger, the actor underneath Steve's letterman jacket tweeted out the good news confirming, "This is not a drill, people! This is happening."
We don't know any further details on the role Steve will be playing on the show. Will he merely cameo and raid a fridge or two? Or is he going to return as a consistent love interest for D.J.? We do know that D.J. has recently been widowed at the start of the series, and she wasn't married to Steve. So Scott Weinger's reprisal of the role could mean a reconnection. D.J. and Scott were often on-again and off-again throughout the original series, so it wouldn't be so farfetched that if the two were to reunite, a flame would be relit.
As it turns out, Candace Cameron Bure has been hoping for Steve's return just as much as fans. In a recent interview with USA Today the actress who plays D.J. Tanner shared a few key details on the upcoming series. Revealing that her firefighter husband tragically died during work, the question was asked, whether or not Steve could come back. Which Cameron Bure answered:
Because really, who was a better boyfriend than Steve? Even Cameron Bure agrees he is definitely ranked as D.J.'s top boyfriend. As for the love interests of some of the other returning cast members, there will be some intriguing drama afoot. Andrea Barber's Kimmy Gibbler will be moving in with D.J. along with her daughter. And the single-mom did not end up marrying backwards cap-wearing Dwayne, so we are sure to meet her ex-husband as he tries to rekindle their relationship. It was also recently announced that we would be introduced to Danny Tanner's new wife. For those hoping that Bob Saget's character and Vicky ended up together, you're out of luck.
The 13-episode Netflix series will also see the return of Jodie Sweetin's Stephanie, who will to be living along with D.J. and Kimmy in their Fuller House. John Stamos as Uncle Jesse, Dave Coulier as Joey Gladstone, and Lori Loughlin as Rebecca are all onboard as well. The series just began filming and is set to release sometime in 2016.
Your Daily Blend of Entertainment News