Game Of Thrones Season 6 Poster Just Answered The Jon Snow Question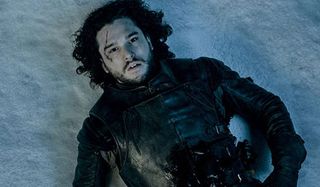 From haircuts to spoiler leaks, most Game of Thrones fans have believed Jon Snow will be a major part of Season 6 for months now. The question hasn't really been if but how he will live on/be resurrected for the new episodes, but HBO has stayed mum about the possibility of the character's return until now. This morning, the network released a brand new Season 6 poster featuring Jon Snow with blood all over his face. Check out the glorious imagery, below.
While Jon Snow definitely didn't crawl under a dumpster after his now-famous stabbing at the end of Season 5 to survive, the poster confirms that Snow will be back 100%, surviving in some other capacity. There's no way that HBO would just straight-up put Jon Snow on a Season 6 poster just to confirm that he is dead in the first episode. Brief Set Spoilers are in the next couple of paragraphs, as is a bunch of speculation. Beyond this, set photos and leaked information have confirmed Kit Harington has been in Belfast filming in recent months, and we even know that his character will at least be in one scene with Sansa Stark. Chew on that.
The coolest thing about this poster is that it features a really somber Jon Snow who has clearly recently gone through hell, but HBO's big reveal about Jon Snow being present in Season 6 doesn't really change the fact that we have no idea what's going to happen. Did Jon Snow just survive the brutal stabbing at the end of Season 5 despite looking very and definitely dead?
Or did Melisandre abandon Stannis and show up at The Wall in just the nick of time to resurrect the dead body of the man she now knows is the Lord of Light's intended? After all, we've known Melisandre and Jon Snow have had a pretty intriguing relationship for a while now. Many have speculated the member of the Night's Watch may in fact end up being a character called Azor Ahai, a legendary figure in the R'hllor-based religion. That would explain how the showrunners and Harington could say Jon Snow is dead without actually lying. All of this is speculation, of course, but again, HBO just confirmed that Kit Harington will be back, which is kind-of a big deal. All of this could and probably does tie back in to Jon Snow's potential parentage, but even with the speculation, the fun part should be seeing this story unfold on the small screen.
The other big reveal in this poster is that HBO is confirming Game of Thrones will, in fact, be returning to the schedule in April of this year. After the subscription cable network threw out rather later premieres for a few of its shows, including Girls, some people were worried that we might get Game of Thrones later than usual. Other rumors indicated the show might hold off until George R.R. Martin's Winds of Winter is out. But since GOT typically premieres in April, the confirmation that the show will be back then is very good news.
We've learned a lot of new tidbits about the upcoming sixth season of the drama, including the size of the dragons, who has been cast in the upcoming episodes and more. Read on about Jon Snow and others with our what we know guide.
Your Daily Blend of Entertainment News
Reality TV fan with a pinch of Disney fairy dust thrown in. Theme park junkie. If you've created a rom-com I've probably watched it.
Your Daily Blend of Entertainment News
Thank you for signing up to CinemaBlend. You will receive a verification email shortly.
There was a problem. Please refresh the page and try again.