Geena Davis To Star In Bounty Hunter Drama Pilot At TNT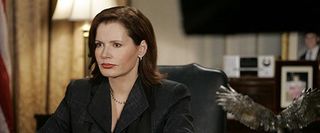 TNT has ordered another pilot, this time for a bounty hunter drama that will star Oscar winning actress Geena Davis. The show is described as "dramatic and quirky" and will feature Davis in the lead role as an unconventional bail bondswoman and bounty hunter.
The as-yet untitled project will feature Davis in a role inspired by a real-life bounty hunter by the name of Mackenzie Green. She is an eccentric woman who uses her own special methods to get things done, helping her to stay ahead of the game in a difficult and unpredictable business. The description of the quirky and unconventional character seems to fit Geena Davis pretty well, although I admit I'm picturing Davis in her younger years in roles like Thelma & Louise or Beetlejuice when I think of her in a quirky role.
Davis has done some TV in the past, starring as the first female President in the short-lived Commander in Chief and more recently appearing the two-part mini-series Coma on A&E. Back in 2000 she also briefly had a self-titled sitcom, The Geena Davis Show, which only made it through one season. For the most part, Davis' TV career has been less successful than her film career.
The pilot will be directed by Leverage executive producer Dean Devlin, and was written by Scott Prendergast and Amy Berg. All three will be executive producing the project along with John Altschuler, Dave Krinsky, Tom Lassally and Michael Rotenberg. Both Devlin and Berg are set to be showrunners for the project.
Your Daily Blend of Entertainment News
Your Daily Blend of Entertainment News
Thank you for signing up to CinemaBlend. You will receive a verification email shortly.
There was a problem. Please refresh the page and try again.