Ghost Adventures Couple Found Dead In Murder-Suicide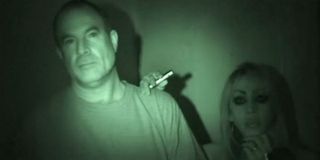 The paranormal Travel Channel series Ghost Adventures is no stranger to highlighting an assortment of strange folk. It is a show about hunting ghosts after all. But, while the series follows investigations of strange, and haunted happenings, there's one current investigation afoot involving a couple that was featured on the show, that may just be the scariest of them all. Mark and Debby Constantino, a couple that made recurring appearances on Ghost Adventures have been found dead in what appears to be a murder-suicide.
Mark and Debby Constantino, were two self-styled paranormal investigators. The couple, along with a third unidentified man were killed yesterday in Sparks, Nevada when apparently a domestic violence incident took a deadly turn. The couple was estranged, and Debby Constantino was currently living with two roommates when the incident occurred. According to KTVN, one of Debby Constantino's roommates arrived home to find their male roommate dead. Upon calling the Reno Police Department, she also notified them that Debby Constantino was missing. The police investigation brought them to an apartment in Sparks where someone began shooting at the police from the door. The police discovered that Debby was inside and being held hostage by Mark Constantino.
The Reno and Sparks Police were both on the scene along with the local FBI attempting to coerce Mark Constantino to surrender for hours. Soon, the SWAT team made their entrance, and found the couple dead inside the unit. The police are saying that Mark Constantino kidnapped her from the Reno location, as well as murdered the roommate, before also killing himself. The apartment unit belonged to an adult child of the former couple.
Apparently upon looking into court records, Mark and Debby Constantino had quite the violent history before this deadly altercation. The couple first took the spotlight as recurring paranormal investigators, specializing in EVP (Electronic Voice Phenomena) on Ghost Hunters back in 2007. They took their ghost hunting skills across the country, and attended many conventions and visits. But apparently, their court records painted a very different picture than what was seen of them on camera and at these events.
Incidents in their violent history ranged from an argument over money resulting in a scratched face, kitchen knife-sliced arm, domestic violence and battery charges, broken noses, strangulation, kidnapping, and the list goes on. After an extreme incident, Mark Constantino and the couple's daughter were ordered to stay away from Debby Constantino. Whether there was a reason behind this deadly altercation, news is still developing. But if there's one thing we learned from this incident, it's that a happy couple on reality TV has no guarantee as a happy couple in real-life.
Your Daily Blend of Entertainment News
Thank you for signing up to CinemaBlend. You will receive a verification email shortly.
There was a problem. Please refresh the page and try again.