Ghost Whisperer Web Series Launches 4th Season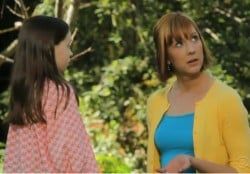 Fans can continue exploring "The Other Side" of Ghost Whisperer as the award-winning web series has returned for a fourth season. The interactive Ghost Whisperer: The Other Side premiered Monday April 12, 2010, and will continue with new webisodes each week until May 21.
The webisodes will flow seamlessly into "gamisodes" where viewers can follow clues to uncover the identity of a ghost. The basic plot follows the Tyler family: Meg, James and their daughter Daisy. They move into a new house and you'll never guess what's going on there.
IT'S HAUNTED!
The spirit establishes a bond to the daughter while working to get the family out of the house. You can find the series on CBS's official Ghost Whisperer web site. And of course, you can catch the main series wrapping up its fifth season every Friday night at 8 PM ET on CBS.
Your Daily Blend of Entertainment News
Your Daily Blend of Entertainment News
Thank you for signing up to CinemaBlend. You will receive a verification email shortly.
There was a problem. Please refresh the page and try again.