Girls Watch: Season 2 , Episode 4 - It's A Shame About Ray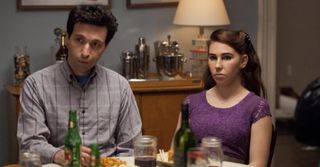 "Nothing bundt trouble?"
Even though the Superbowl and Girls probably don't share the same audience, for the most part (I'm sure I'm not the only one located in the middle of the Venn diagram), HBO was kind enough to air "It's A Shame About Ray" early to avoid competing with the biggest event in sports save the World Cup. You know, the football where they primarily use their feet. Anyway, the fourth episode of Season 2 debuted on Saturday night but those who missed it and/or couldn't care less about the Ravens versus the 49ers, could still catch "It's A Shame About Ray" during the usual time-slot and all will be back to normal come next week. Scheduling that is, as far as the Girls, well, normal isn't exactly the word to describe the state of affairs on the series with "Bad Friend" uprooting relationships, exploring new character dynamics and going off the rails (puns!) in a really funny way. But the cocaine fuelled fun didn't last as Hannah not only flipped the script on Marnie, after her own liberating/weird sex with the derivative artist, but also is forced to find a new roommate. Again.
"Butt plug."
So far the second season has been very Hannah centric, bringing into question the ensemble nature of the comedy (not that it would any way diminish the quality, it's just a dynamic worth noting), even if last week did open things up a bit by splitting "Bad Friend" between her writing, uh, job and Marnie's late evening encounter. The other two 'main' characters, Shoshanna and Jessa, haven't really been given much screen-time this year but "It's A Shame About Ray" brings them more into the fold. Not surprising given the title. But before engaging with their very emotional (yet still very funny) sequences, it's important to acknowledge the roommate split in the cold open which I hope doesn't actually spell the end for Andrew Rannells. Even if it does mean no more Elijah for the rest of this season, I'm sure the fan favorite who has been great these first four weeks could always be written back in at any point. It's not like Hannah always stands by her convictions even though she does seem to be growing, especially if you compare her actions last night with the dinner scene that opens the series, you know, when her parents cut her off. And at least they sent Rannells off with one last great scene of the fink spatting with our heroine.
"Don't Go. And you don't go. Nobody go."
After the title-card hits, Hannah hosts a party to celebrate her first JazzHate article getting published but, unlike the first three episodes this year, this time she takes a backseat to the other three Girls. Or a sideseat. Marnie's troubles continue with a bunch of drama happening just because she accepted the fake-invite to the dinner party. Okay, that may have been Hannah's fault, however, it only takes a little convincing with a large knife to get her former roommate, her former roommate's former boyfriend and her former roommate's former boyfriend's new girlfriend to stay. Not the best idea, especially since the mustard girl with the headband (Audrey Gelman) knows about Marnie's overnight visit to Charlie's and isn't afraid to bring it up. Of course, that doesn't happen until a whole bunch of passive aggressive bickering tastes place between the pair even after Ray and Shoshanna join the party. Hannah passes the buck to Charlie when it comes to deciding who should stay and who should go, which quickly prompts Marnie to flee the scene. In a surprising move, or so I thought, Charlie chases after her and they even share a kiss before it once again all falls apart. I like them both a lot more this season, Marnie lost and looking for a sign with Charlie finally standing up for himself and even slinging some sweet Star Wars insults. I don't like Booth Jonathan either. His art sucks.
"... oh my God! Do you live with me?!?"
Ray and Shoshanna arrive late to the gathering, right in the middle of the passive aggressive part, and Zosia Mamet quickly reminds you why it's nice to have her (and her titular beau played by Alex Karpovsky) back in the series for more than a line or two. An innocent, although certainly not brief, lie as to why they were late is quickly exposed by Ray but he's the one whose deceptions will soon come to light and take over the most emotional story-line in an emotional instalment. However, every time the drama is about to tip, Dunham and her actors manage to sneak in a word, phrase or maybe just a look to lighten the mood. Ray could have also avoided the whole situation with a simple lie of his own - yes, I still live there - but he's just not that type of guy. This loser's got some integrity. And a Mitsubishi! Shoshanna's realization that he is in fact shacking up with her is played perfectly and it's nice to have Hannah to pivot back and forth between their situation and the aforementioned love triangle. Square. I forgot the Ewok in the capris. The thread comes to a head in the underground with subways passing and Ray coming back with the love line was an unexpected and wonderful gut punch. The good kind.
"I'm a miracle. I'm a unicorn. I'm a fucking needle in a haystack. And you're just some fucking dumb hipster who's munching my hay."
Speaking of gut punches, there are more than a few in Jessa's thread which starts out rather light before getting increasingly more bitter and hard to watch. But, like I said, every time it's about to go too far, Jemima Kirke and Chris O'Dowd, as well as guest stars Griffin Dunne and Deborah Rush as the latter's parents, are able to break the tension with a laugh, often a big one. It wasn't hard to guess that things were not going to go well at dinner before the episode even aired and the first scene with the married couple certainly reinforces that foreboding. Every request Thomas John makes, Jessa counters with a response that suggests his parent's actions are vile. Being early is not vile. Of all the characters, Jessa is interesting because even with all her 'life experiences,' she's in the same square one-ish boat as the others but is desperately trying to keep that a secret, even from herself until the end where her vulnerability makes her more sympathetic. Let's face it, she's quite horrible to TJ and doesn't make any effort at dinner to be palatable to his parents. None of this really matters because we all knew the marriage was doomed from day one, it was just a matter of time and how savage the final encounter would get. It got.
"I love you so fucking much."
Girls returns with Episode 5, "One Man's Trash," next Sunday at 9 p.m. ET on HBO. Created by Lena Dunham, the series stars Dunham, Jemima Kirke, Zosia Mamet, Allison Williams, Adam Driver, Christopher Abbott and Andrew Rannells.
Your Daily Blend of Entertainment News