Glee Watch: Season 3, Episode 11, Michael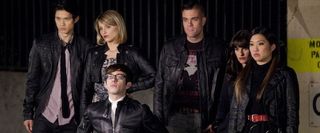 One acronym: WWMJD, will forever remain ingrained in my brain (and I want it on a bracelet for my wrist). Glee's tribute to Michael Jackson last night was epic. The songs, the dancing, the costumes... it was a-m-a-z-i-n-g! And with episodes like this Glee's "Gonna Be Startin' Somethin'," as in we're going to want a Michael Jackson tribute every season! Let's recap shall we?
Sebastian
Santana had it right: Sebastian is an '80s teen movie villain with great hair. Last night he played on Blaine's naivete and stole New Directions' Michael Jackson set-list for Regionals (that bastard!) and that's not all.
A Salty Slushy
Sebastian took it too far when he maimed Blaine with a slushy infused with rock salt that left our crooner looking like Patchy the Pirate and requiring eye surgery. And to make matters worse we later learn Sebastian meant to get Kurt. Ohhh no one puts my Kurt Hummel in a corner! *cracks knuckles*
Smooth Criminal and Scream
Despite being an evil jerk, Sebastian did serve as the catalyst for my two favorite MJ songs of the night: "Smooth Criminal" and "Scream." Sebastian and Santana's rendition of "Smooth Criminal" with the cellos literally gave me goosebumps. And FYI Sebastian, Santana totally kicked your ass with her "I don't know" high notes. Holla.
My other favorite song of the night was Artie and Mike's version of "Scream." It was the right song choice to express Artie's (and the rest of New Directions') frustration with being bullied and stepped on. The set for this song along with the dancing, costumes and eye makeup was phenomenal. Actually, after wards I went back and watched the original music video with Michael and Janet to compare the two versions. In the original, Michael and Janet's dancing was so on point and precise. So, kudos to Artie and Mike because I thought they did MJ and Janet justice.
College and Proposal Updates
Quinn got into Yale so good for her. But I'll be honest, when has Quinn been that smart? Also Kurt and Rachel were named NYADA finalists. I totally called Rachel getting her letter late, so that she would end up accepting Finn's proposal. Hmm and we all saw that Quinn's advice earlier in the episode really got to Rachel. So, the question now is what will Rachel to do? As a modern day Renaissance woman, there is no reason Rachel Berry can't get married and go to college, but Berry can be unpredictable. (Btw I liked Finn's redo of the proposal. MJ's song 'I Just Can't Stop Loving You' was the perfect fit.)
Sam and Mercedes: Oh Snap!
Our luscious Macauley Culkin lipped look-a-like Sam appeared to have swooned Mercedes with his latest ploy: a duet of 'Human Nature'. Did you see that steamy kiss?
Santana's 'Under Boob' Has a Surprise For Sebastian
Santana cleverly taped a recording device under her 'under boob' and caught Sebastian's confession of rock salting Blaine's eye on tape. (You go, girl!) However, Kurt decided to take the high road and stopped her from sending the tape to the police. (Nooo Kurt!!! What are you doing?) Instead, he had New Directions humiliate Sebastian in front of the rest of the Warblers with New Directions showing the true meaning of Michael Jackson by singing "Black or White" followed by Santana revealing the taped confession. I'll admit I was let down by Kurt. I personally wanted Sebastian to pay for his crimes: 'an eye for an eye' would have been appropriate in this case.
LOL Moments
Brittany who has been on the back burner lately, had a golden moment with the following one-liner: Santana: "Brittany, lock the door." Brittany: "I don't know how to do that."
Memorable quotes
• "Santana: "This isn't violent. This is clever. I taped it to my under boob."
• Santana: "I wanna go to a college that isn't a FEMA trailer or a prison yard, so let's take the high road."
• Puck: "You told him what we're gonna do. You're like a modern day Eggs Benedict."
• Sebastian: "Hey, Kurt, i didn't recognize you. You're wearing boy clothes."
• Mercedes: "I don't want to see the spectacle that is Michael. I want to be the spectacle that is Michael."
Music featured
• "Wanna Be Startin' Somethin"
• "Bad"
• "Scream"
• "Never Can Say Good-bye"
• "Human Nature"
• "Ben"
• "Smooth Criminal"
• "I Just Can't Stop Loving You"
• "Black or White"
Gleeks, next week we will be "Livin' La Vida Loca" when the sexy Ricky Martin guest stars as McKinley High's new Spanish teacher. Also Sue wants a child (say what?) and NeNe the Swim Coach is back! Can't wait!
Your Daily Blend of Entertainment News
Your Daily Blend of Entertainment News
Thank you for signing up to CinemaBlend. You will receive a verification email shortly.
There was a problem. Please refresh the page and try again.