Glee Watch: Season 4, Episode 13 - Diva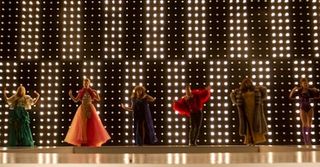 In last night's episode, our Gleeks were embroiled in a tense diva-off competition that spanned from Lima to NYC. And Finn delivered the most shocking moment thus far of the season. Let's recap, shall we?
Diva
Finn uses Emma's suggestion and assigns New Directions to a diva-off. The guys and girls go at it, determined to prove which gender is a better diva. And I have to say Blaine's red outfit during the performance was pretty fierce, but it couldn't compare to the girls' amazing vocals.
Rachel's Ego
Meanwhile in NYC, a different diva-off is about to take place. Rachel's ego has been out-of-control since the Winter Showcase, and Kurt Hummel is fed up. Kurt plans to take Miss Berry down a few pegs using the Midnight Madness sing-off. And it works! Kurt stays true to form and doesn't throw the competition (like he did at McKinley) and is declared winner. Rachel naturally is devastated, and I'm glad because she has been insufferable.
But Kurt is too nice, and extends the olive branch in the form of auditions for "Funny Girl." Rachel is seriously lucky to have a friend like Kurt.
Santana's Up In A Whole Bunch Of Storylines
I agree with Tina, "Why is Santana back when she isn't a student anymore?" But Miss Lopez did kill it with her rendition of "Nutbush City Limits" and she stirred up a whole bunch of storylines.
First, she tried to break-up Sam and Brittany, but failed. Then we learned from Sue that Santana has dropped out of college. In a nice gesture, Sue offers Santana a job, but ultimately McKinley isn't where Santana needs to be. After a heart-to-heart with Brittany, Santana packs her bags, heads to NYC and crashes Rachel and Kurt's place, announcing she is coming to live with them. Whoa. Can't wait to see Santana unleashed on the prissy NYADA crowd. (Because you know she'll crash Rachel's class.) And can you image Santana facing off against Cassandra?
Tina/Blaine
Blaine is sick, so lovestruck Tina babies him with care packages. She even goes as far as applying Vicks Vapor rub on a sleeping Blaine. I didn't know whether to be horrified (because I thought she was going to Nyquil date rape him) or feel sorry for her because she realized she can never have a romantic relationship with Blaine.
Thankfully, Tina came to her senses, found her inner Diva in an amazing Madonna performance, and appears to be okay with "just friends." But I guess we'll have to wait and see how things go during Will and Emma's wedding next week. (Remember Tina is Blaine's date.)
Finn Kisses Emma!
Speaking of Emma, OMG! When Emma caves under the wedding pressure and has a meltdown, Finn swoops in to assist, but not how you think. Finn kisses Emma!!!! Ahhhh! What's going to happen now, especially when Mr. Schue returns?
LOL Moment(s)
When Emma told Finn that Will keeps suggesting going to Costa Rica, but gingers can't be that close to the equator.
Memorable Quotes
Blaine: "Why are you acting so pissed off?" Tina: "Because I get it now. A diva doesn't settle for less than what she wants, and she won't apologize for wanting it. And I can't get that here, so next time, don't come crawling back to me. I'm all out of soup." Blaine: "That seems a little...crazy."
Sue: "What is with you glee club ex-pats? Don't you have jobs. You have to have some source of income so you can pay the staff of scientists who service your teleporters that you all clearly on since you're constantly showing up here."
Santana: "Look, please don't tell my mom." Sue: "Oh, I can't. I don't speak Spanish."
Brittany: "I'm not breaking up with Sam. I really like him. He makes me feel really smart and think about things, like where air comes from, and how come in every movie about Jesus he dies at the end."
Music featured
"Diva"
"Don't Stop Me Now"
"Nutbush City Limits"
"Make No Mistake (She's Mine)"
"Bring Him Home"
"Hung Up"
"Girl on Fire"
Gleeks, next week it's the Valentine's Day episode and Will/Emma's wedding! See you then!
Your Daily Blend of Entertainment News