Glee Watch: Season 4, Episode 16 - Feud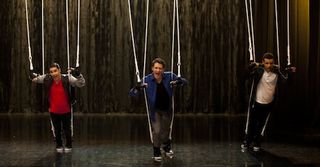 In last night's episode, feuds were popping up everywhere: from Schue versus Finn to Ryder versus practically everyone. And Sue Sylvester puts on an amazing Nicki Minaj performance. Let's recap, shall we?
Feuds
In an attempt to ease the tension between Schue and Finn, the Glee kids assign them musical feuds. And as other feuds spring up, (how convenient) those students perform too. Here's a recap of who "feuded" who and the outcome.
Schue and Finn: It was a '90s boy band flashback with N'Sync (Schue) versus Backstreet Boys (Finn). I was an "N'Syncer" in high school, so I automatically liked Schue's better, especially since he busted out the "Bye Bye Bye" puppet strings. Unfortunately, the feud sing-off did little to resolve their conflict. Schue is still unable to hug/forgive Finn, he wants to, but he just isn't there yet. Finn naturally is distraught, but the one positive that has come out of this is Finn now knows he wants to be a teacher, he just needs to get his degree.
Ryder and Unique: I wasn't familiar with Ryder's Elton John song choice "The Bitch is Back," but I loved Unique's version of Madonna's "Dress You Up." Like Unique said (no offense Elton) "Madonna will always be number one."
And it seemed like in this episode Ryder was stepping on everyone's toes. Not only was he feuding with Unique (he refused to acknowledge she is a girl), but he also had the Marley kiss backlash. But like with most Glee episodes, everything was resolved with a song and a smile at the end, well, except for Finn and Schue.
Sue and Blaine: Sue wanted Blaine for the bottom of her Cheerios pyramid and vowed to not stop until he joined her squad. Taking a cue from American Idol, the two did a Nicki Minaj versus Mariah Carey. (See Best Feud Performance below.)
Rachel Is Not Preggo
Wow, Glee certainly wrapped that storyline up quickly. Rachel comes out of the OB/GYN office and announces false alarm. Well, that's good, but I agree with Santana 'Hello? Wake up call?" I can't believe Rachel was so blase about it. And where was the safe sex part (birth control, condoms, etc.) so this doesn't happen again?
Brody is a Gigolo
My hunch was correct: Brody is a male escort! Santana's Mexican third eye and stealing Brody's pager helped her prove his side job isn't a "cater waiter." (Well, I guess he does cater to certain clientele.) And I enjoyed Santana's NYADA Paula Abdul confrontation.
I just wish Kurt and Rachel would wake up and trust Santana's street smart instincts. I was glad she brought Finn into the situation to set Brody straight with a good pummeling. I guess we'll see next week if Brody actually leaves.
Ryder and the Mysterious Computer Girl
Ryder's computer friend seemed level-headed and nice. She was giving him good advice, but then when he wanted to meet she suddenly logged-off. Hmm is this girl hiding a secret, or are one of the McKinley High kids Manti Te'o-ing Ryder?
Best Feud Performance
Hands down Sue (Nicki Minaj) versus Blaine (Mariah Carey) was the best, primarily because Sue channeled Nicki Minaj (with Becky's help) to a T! I loved the crazy eyes, the clothes, and the black light! And did you see Sue zip around on that scooter? Blaine couldn't hold a candle to Sue which surprised me because the real Mariah Carey is fierce, and his performance was lackluster. But then again maybe he threw the competition....
Blaine is a Cheerio Spy!
Turns out Blaine is going to be a Cheerios Spy! He has cooked up a plan with Sam to infiltrate the Cheerios and bring Sue down! Oh snap!
LOL Moment(s)
Although it wasn't right, Sue's harassment of Blaine was pretty funny: the concrete hair gel, the airplane banner, etc. Another funny moment was Becky acting like Mr. Miyagi to Sue's Daniel-san, during Nicki Minaj training.
Memorable Quotes
Sue: "Well, I hope you're ready for some form-fitting polyester, gay Clark Kent from season one of Smallville. Because it looks like you're going to be the bottom of my Cheerios pyramid after all."
Kurt: "We just got off the phone with Brody. Did you confront him at NYADA with a Paula Abdul song?"
Sue: "It's time to perfect my Nicki Minaj where the hell did that come from cuckoo for cocoa puffs crazy pants threat."
Santana: "My psychic Mexican third eye is never wrong."
Music featured
"How to Be a Heartbreaker"
"The Bitch Is Back/Dress You Up"
"Cold Hearted"
"Bye Bye Bye/I Want It That Way"
"I Still Believe/Super Bass"
"Closer"
Gleeks, next week Santana reveals to Rachel that Brody is a gigolo! Oh my! Wonder how she'll react. See you next week!
Your Daily Blend of Entertainment News
Thank you for signing up to CinemaBlend. You will receive a verification email shortly.
There was a problem. Please refresh the page and try again.