Glee Watch: Season 4, Episode 19 - Sweet Dreams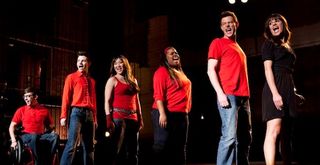 In last night's episode, McKinley High students and faculty dealt with the fall-out of last week's shooting episode in some unusual ways like pretend twins and hormone therapy. Let's recap, shall we?
Shooting Fall out
McKinley High's students appear to be suffering from PTSD over the gun incident. Sam is now pretending he has an identical twin brother named Evan Evans, Tina is "steam-punking" and Unique is taking birth control to grow bigger boobs. Whoa!
Schue can tell his kids are having issues so, he tries to redirect their attention back to regionals, telling them this year's theme is "Dreams." Only problem is the Glee gang aren't feeling Annie Lennox. In fact, Marley wants to try one of her original songs, and Mr. Schue at first isn't having it. But by the end of the episode Schue (with Finn in tow) comes to his senses and they all agree to work together and sing Marley's song "Outcast" because singing fixes everything.
Roz Is Back!
My favorite Atlanta Housewife NeNe is back in full Roz character. I figured when Sue departed that would open the door for Roz to jump into the role of Cheerios coach. Roz is one sharp cookie and immediately questions why Blaine and Becky are co-captains. (Well Roz, Blaine was blackmailed but also is conducting Cheerios espionage.) During Roz's interrogation and demand for a blood oath and loyalty pledge (that woman does not play around!), for a second there it looked like Becky was going to spill what really happened with the school shooting. Blaine can definitely tell something isn't right, but Becky isn't willing to talk to him. Don't worry Blaine, I'm sure you'll find out in next week's episode, and hopefully he can get Becky some help and we'll get Sue back.
Finn and Puck: College Bros
After a Harlem Shake segue into campus (talk about a quick college acceptance), Finn (with Puck) is taking on college like Van Wilder: hosting hallway slip and slides, making grilled cheese sandwiches using a clothes iron, and even entertaining frat parties.
Finn appears to be enjoying college so much that when Schue - following Beiste's advice - attempts to bring him back to coach New Directions, Finn immediately turns Schue down. Finn is right, sometimes you can't go back... or can you? (More on that in a sec.) Later when Puck confronts Finn about missing classes it was quite the role reversal. Normally Finn is the one trying to keep Puck on the straight and narrow. So, after a Puckerman chat, Finn is ready to buckle down (mostly) and become a teacher while Puck will work on his epic screen play. I really hope Puck's screen play comes to fruition. Could you imagine an episode of him casting characters? Haha.
Mother and Daughter Reunited
Shelby is now living in NYC running a Broadway daycare and stopped by NYADA to help Rachel prepare for the "Funny Girl" audition. Did anyone else get chills when Rachel and Shelby sang "Next to Me"?
I loved seeing Rachel actually follow Shelby and Finn's advice (you know how stubborn Berry can be) to sing songs that were unexpected (Journey) and intimate and it paid off. Rachel got a callback!
LOL Moments
When Unique hands Blaine a cutlet, and Blaine's facial expression.... I seriously lost it.
Memorable Quotes
Roz: "Like George Jefferson, I'm movin' on up!"
Finn: "I've got the rest of my life to be a grown-up. And for now, it's okay to be young."
Puck: "Dude, I'm just here for my bro, some brews, and the bountiful Bettys. I love college!"
Music featured
"Don't Stop Believing"
"Fight For Your Right To Party"
"Next To Me"
"Outcast"
"You Have More Friends Than You Know"
Gleeks, who didn't doubt at the end Finn would come back and decide to help Schue thanks to a convenient college credit? Next week it looks like SJP is back and we'll find out what Sue is now up to. See you then!
Your Daily Blend of Entertainment News
Your Daily Blend of Entertainment News
Thank you for signing up to CinemaBlend. You will receive a verification email shortly.
There was a problem. Please refresh the page and try again.