Glee Watch: Season 4, Episode 21 - Wonder-ful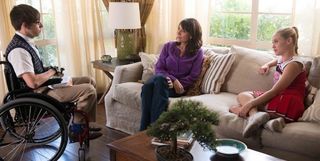 In last night's episode, a few McKinley High alumni returned to help New Directions prep for Regionals, Mercedes faced off with her record label, Artie got some big news, and Blaine asked an important question. Let's recap, shall we?
Stevie Wonder
This week's theme was Steve Wonder-ful, and the old and new Gleeks had plenty of reasons to sing Stevie Wonder songs like Kurt.
Burt Health Update
We've all been wondering what is Burt's health status. Turns out he is now cancer-free! So, in response to the good news Kurt gleefully sings to his father "You are the Sunshine of My Life." Sometimes the way Glee works these themed songs into the storyline is corny, but in this case it works and it's a sweet moment.
But Mr. Hummel doesn't get to relax for long because Blaine has something very important to ask him.
Proposals
If you've been reading online spoilers like I have, then you already knew that Blaine was going to ask Burt for Kurt's hand in marriage. Although Burt thinks fondly of Blaine, he warns the crooner to be careful. Remember what happened with Finn and Rachel? Hmm I still think Blaine is going to propose to Kurt anyway. Who wants to bet Kurt will scream? And that his engagement ring will have some sort of Moulin Rouge or Tiffany's reference?
We also learned that Schue re-proposed to Emma and she accepted. But since Emma is a perpetual runaway bride, I'm not going to hold my breath when it comes to marriage for those two.
And this is off topic, but I was watching one of those Dannon Oikos Greek yogurt commercials the other day, and it reminded me of how much I miss John Stamos. Any chance they could bring back Dr. Carl and pair him up with Beiste or someone?
Artie is NYC Bound and Mercedes Stays True to Herself
Congrats to Artie who got accepted to the Brooklyn Film Academy. But he almost didn't go because he was afraid to leave his mom. Aww that's sweet, and who doesn't love the former Mrs. Peg Bundy (Katey Sagal)? Oddly enough Kitty of all people comes to the rescue and sets things straight.
By the way, anyone else notice the tension between Artie and Kitty? (Ryder who?) Hmm maybe they'll be bumping wheelies soon.
Anyway, with Artie headed to NYC, looks like most of the gang will end up there eventually. Maybe even Mercedes who is experiencing some career bumps.
Mercedes record label wants her to sexify her image for her debut CD. But moral Mercedes isn't comfortable "selling sex" so she refuses and ends up losing her contract. Good for Mercedes sticking to her guns, but for someone who idolizes Beyonce - who shows skin on the regular - it was a little, I don't know, hypocritical? Or ultimately this could just be a plot move to get Mercedes to NYC too. Hope Rachel and Kurt get a bigger place because they're going to run out of room if Artie and Mercedes move in.
Rachel Gets a Second Callback
Rachel is so close to her Funny Girl dream, but will Cassandra stand in her way? In a season shocker (for me anyway), Cassandra gets "Grinchy" and grows a heart when she changes the date of Rachel's midterm so it won't conflict with the callback.
LOL Moments
Kitty taunting Mercedes with "Did you learn your new lyrics yet? Do you want fries with thaaaaaattttt?"
Memorable Quotes
Blaine: "I wanted to formally ask for your permission to ask Kurt to marry me." Burt: "You kidding, or you nuts?"
Tina: "And what are you here to lecture us about Kurt? Our horrible taste in clothing?" Kurt: "My dad has cancer."
Mercedes: "Are you gonna argue with our Lord and Savior Jesus?" Jake: "I mean, I'm Jewish." Mercedes: "So was he."
Cassandra: "Youre widely regarded as having one of the puffiest morning faces of any known human."
Music featured
"You Are The Sunshine of My Life"
"Superstition"
"Signed Sealed Delivered (I'm Yours)"
"I Wish"
"For Once In My Life"
"Uptight (Everything's Alright)"
"Higher Ground"
Gleeks, this season is winding down so fast and there are still so many questions left unanswered like who is catfishing Ryder!?!? Hope we get a few resolutions next week. See you then!
Your Daily Blend of Entertainment News
Your Daily Blend of Entertainment News
Thank you for signing up to CinemaBlend. You will receive a verification email shortly.
There was a problem. Please refresh the page and try again.