Katey Sagal To Guest Star In Glee As Artie's Mother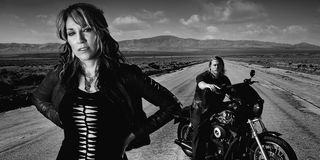 Katey Sagal's no stranger to playing someone's mother. She was the matriarch of the Bundy household in the beloved Fox sitcom Married with Children, and much more recently, she plays Jax's mother Gemma in FX's biker drama Sons of Anarchy. But what kind of mother will she be in Glee? We'll apparently find out as Sagal has been cast to guest star as Artie's mother in the Fox musical dramedy.
According to TVLine, news of Sagal's casting was Tweeted by Ryan Murphy last night:
Murphy's not wrong about that. Sagal's proven to be adept at both comedy and drama, which makes her a perfect fit for a show like this. It also makes it impossible to predict what kind of mom-role she'll be playing (funny or serious?) and how she'll fit into the story. Do we even know anything about Artie's mother?
As a fan of Sagal's, I'm very excited to see her in the show when she makes her appearance next month (some time during May sweeps). I'm also hopeful (to the point of expectant) that Ryan Murphy will make good use of Sagal's musical talents. She has a fantastic singing voice, which hopefully will be featured in the episode.
In addition to Sons of Anarchy and Married with Children, Sagal's credits include voicing the role Leela in Futurama, and she played Helen in Lost.
Your Daily Blend of Entertainment News
Thank you for signing up to CinemaBlend. You will receive a verification email shortly.
There was a problem. Please refresh the page and try again.