Glee Watch: Season 4, Episode 4 - The Break-Up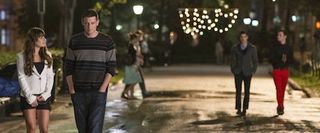 Gleeks, hope you had plenty of Kleenex handy last night because our favorite Glee couples were imploding left and right. Let's see who was left standing when the dust settled, shall we?
Where has Finn been?
Glee didn't beat around the bush and we got to find out immediately where Finn has been. Turns out he was in the army for 16 days until he accidentally shot himself with his gun named "Rachel." After getting an honorable discharge, Finn was too embarrassed to call and let anyone know what happened, so he went backpacking through Georgia for four months.
Rachel takes the news surprisingly well and offers to help Finn find a new dream in NYC. Finn agrees. Hold up. What about Brody from the night before? Didn't Finn see something? Looks like for the time being Finn holds his tongue.
Missing their boos
Blaine and Brittany were both missing their significant others. Blaine admits he feels left out because Kurt is so busy with Vogue.com. And I can see why. Really, a gossip call was more important than talking to Blaine, Kurt? SMH
Brittany cheers up momentarily though when Santana comes home to do laundry and visit. Will these two make it together until the end of the episode? Ahh I'm so nervous!
Who is Eli. C.?
While moping, Blaine gets a sexy Facebook message from Eli C. At first I was worried, but then when Blaine showed up to surprise Kurt in NYC, I thought "Oh, I guess Blaine didn't do anything with Eli. Whew." Ah, but I was wrong. Blaine CHEATED! Nooooo!! OMG Blurt!
Don't Speak
As Kurt and Blaine fight, so does Finchel. Finally Finn calls Rachel out on Brody (did anyone else catch Finn's expression during Rachel and Brody's duet?) Rachel admits they only kissed. That's all Finn needs to hear. Already vulnerable because he thinks he doesn't fit in NYC, Finn sneaks out the next morning without saying goodbye to Rachel.
Finns returns to McKinley
Reeling from Rachel's "indiscretion," Finn returns home to get some grounding. He goes straight to Mr. Schue for some guidance. And all of Finn's former classmates are happy to see him. Aww. Plus it looks like Finn will be helping out Schue with the production of "Grease." Hmm looks like Finn may step in for Schue when it's time to depart for The Blue Ribbon Panel.
Will and Emma are now fighting? Ugh
Looks like no couple was able to escape from the tension last night. Will and Emma ended up fighting over taking a leave of absence from McKinley together. Emma accuses Will of thinking of her like a puppy dog that will just follow him. But at least these two are still together, unlike the following couples who have headed to Splitsville.
RIP Finchel, Brittana, Blurt
Ugghh the tally of fallen relationships in this episode was huge: Finchel, Brittana, Kitty/Jake, and 'gasp' Blurt. I assume Blurt is over because Kurt threw away Blaine's card although there was no official exchange of heated words unlike Finchel and Kitty/Jake. And how heartbreaking was it when Santana gently broke up with Brittany because it was the right thing to do, instead of dragging out a long distance relationship that would only hurt them in the end. I guess that now leaves the door open for Brittany to explore a relationship with Sam. May I suggest their couple name be Bam Bam? LOL.
LOL Moments
Finn naming his gun "Rachel." And although it was mean, I did laugh during the Left Behind Club's fake rapture that freaked Dottie out.
Memorable quotes
Kitty: "You do not want to break up with me, okay? I am like a bad Carrie Underwood song when I get going." Jake: "Yeah, well, I'll take my chances."
Marley: [to Jake] "You're half-Jewish, right? Does that mean you'll float up to Heaven at half speed?"
Kurt: "I'm gonna take this down to the park and watch drug deals go down"
Music featured
"Barely Breathing"
"Dont' Speak"
"The Scientist"
"Teenage Dream"
"Mine"
"Give Your Heart a Break"
Gleeks, that was tear-jerker episode. But we do have some time to recover because the next new Glee episode isn't until November 8. See you then!
Your Daily Blend of Entertainment News
Thank you for signing up to CinemaBlend. You will receive a verification email shortly.
There was a problem. Please refresh the page and try again.