The Super Bowl Will Be Streamed Online For Free, Here's Where To Watch It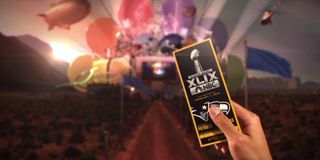 In recent years, the big networks have made the biggest football game and sports event of the year, the Super Bowl, available to stream for free. This year, NBC is following tradition and will stream Super Bowl XLIX for free. Additionally, NFL.com and Superbowl.com are planning to stream additional content for football fans, allowing access to Super Bowl XLIX interviews and events during the week leading up to the big game on February 1. It all sounds pretty snazzy.
The whole thing should be a pretty big deal for football fans who haven't purchased a traditional TV package. NBC will allow Super Bowl XLIX to stream for free, no strings attached, on February 1. As part of that deal, the halftime show hosted by Katy Perry will also stream for free. Typically the network asks users to log in with their cable provider to stream content, but the new deal will allow citizens to bypass the subscription login. In addition, Super Bowl commercials will also stream, although since many of those are released ahead of time, that obviously isn't nearly as exciting as the big game.
In addition to NBC's big streaming of the game, SuperBowl.com and NFL.com have plenty of Digital Media that will be available during the week leading into the Super Bowl. This includes Super Bowl Live content that will air digitally on Wednesday (January 28) from 1-4 p.m. ET, Thursday (January 29) from 1-4 p.m. ET and Friday (January 30) from 2:30-5:30 p.m. ET. Both NFL.com and SuperBowl.com will also link out to NBC Sports Live Extra's live stream of the big game, so it should be relatively easy to find the program.
While allowing the Super Bowl to be streamed for free isn't a brand new idea, (networks have actually been streaming the big game for the last several years) it was originally NBC's big idea. Back in 2012, NBC was the first network to stream the Super Bowl and halftime show for free. During the first streaming of the Super Bowl, nearly 2.1 million total viewers tuned in to the game via that format. A year later, CBS followed suit and 3 million viewers tuned in. Last year, Fox's numbers improved even more. Doubtless all of the additional content will help people to be invested in streaming the game again this year. Although NBC is likely hoping that making the game available for free might lead people to change their minds about dumping TV in the future.
Super Bowl XLIX will feature the New England Patriots playing against the Seattle Seahawks. The game is set to air live from the University of Phoenix Stadium in Glendale, Arizona on Sunday February 1 at 5:30 p.m. ET on NBC.
Amazing Race & Top Chef superfan with a pinch of Disney fairy dust thrown in. If you've created a rom-com I've probably watched it.
Your Daily Blend of Entertainment News
Thank you for signing up to CinemaBlend. You will receive a verification email shortly.
There was a problem. Please refresh the page and try again.