The Grossest Thing About Naked And Afraid, According To The Editor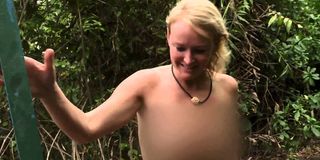 Naked And Afraid is a show about being dropped off in the wilderness while wearing nothing but your birthday suit. The show airs on a cable network, Discovery, and is about survival despite the word naked in the title. For those reasons, boobs, butts and any genitalia have to be blurred out by none other than the blur editor, who in this case happens to be Erin Gavin. If I had to guess, I would have thought that the basic blurring would be the grossest part of the job. But in a recent editorial, Gavin cleared that right up. Here's the grossest part of editing Naked And Afraid:
Now that he's putting it that way, he certainly has a point. I've stood next to some rank-smelling and looking individuals at weekend-long music festivals before, and those moments have been personally cruddy. Twenty-one days is a heck of a lot longer than a three or four-day festival and during that time these people have traipsed through the wild, encountering mud, bugs and a variety of ticks, all without ever shampooing their hair. I can see how that becomes gross, even during the editing process. These people totally don't look the cleanest:
In the feature Gavin penned over at THR, he also talks about how difficult it can be to edit a show like Naked And Afraid. For instance, when a woman is walking around, not only does the show have to blur any vagina out, the series also has to do the same with breasts. This can make the job extremely long and tedious. Plus, the contestants who appear on the series sometimes have bizarre requests. Some of those even have to do with a, well, certain package.
That response from people on the show is actually less unexpected, but no less odd. Considering this is this guy's job day in and day out, it's nice to see he has such a sense of humor about editing a show that is chock full of nudity. If you loved gems like these, you've got to read the full thing, which also references "danglers," "weenie wagglers" and more phrases with funny meanings. Or you can catch new episodes of Naked and Afraid on Sundays at 10 p.m. ET, only on Discovery. Here's what else the networks have coming up.
Amazing Race & Top Chef superfan with a pinch of Disney fairy dust thrown in. If you've created a rom-com I've probably watched it.
Your Daily Blend of Entertainment News
Thank you for signing up to CinemaBlend. You will receive a verification email shortly.
There was a problem. Please refresh the page and try again.