Watch James Franco And Seth Rogen Get Naked And Afraid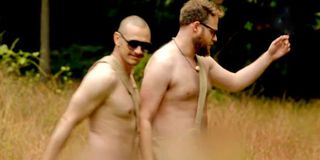 Naked is the new trend in television, from dating shows to survival shows. So to promote their new film The Interview, Seth Rogen and James Franco stripped down to take advantage, and appear as partners on Discovery Channel's Naked And Afraid.
For those unfamiliar with Naked and Afraid's bizarre brand of greatness, the show takes two strangers and strands them in a hostile environment for 21 days. Before they meet, they are stripped bare, and left with only a burlap sack to cover their junk and carry their mic pack. They also get to select one "survival" tool. Most people pick a machete or a fire-starting kit, though one clever redneck proudly picked duct tape. Contenders on the show must work together to build shelter, find food and water, as well as traverse treacherous terrains laden with sharp rocks, punishing weather and in some cases deadly animals. And what do you get for making to day 21? Nothing except. the pride of doing it, really.
Seriously, this show's insane. And we can't wait to see Seth Rogen and James Franco take it on.
A clip from Rogen and Franco's Naked And Afraid ep premiered on Good Morning America, with a heavy amount of blurred out bathing suit area, common to the series. In it, the two play dumb, stunned that they are paired with each other, breaking from the show's tradition of coupling up strangers, one of which is male, the other female. Rogen cracks a joke about the pair-up in a solo interview.
See the full Good Morning America clip below at the 1:31 mark:
More ABC US news | ABC Health News
Franco actually teased the pair's adventure on the series last month on Instagram.
This shot seems to be their rescue - but why are they hiding under a tarp?
This last one is blurry and overexposed, but it's somehow my favorite.
Seth Rogen and James Franco's episode of Naked and Afraid will air on December 7th. So mark you calendars.
The Interview will hit theaters on December 25th.
Your Daily Blend of Entertainment News
Staff writer at CinemaBlend.