HBO Go Coming To The Xbox 360 On April 1st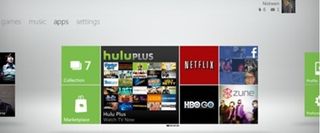 Over the past few years, Microsoft has been doing their best to make their Xbox 360 not just a gaming platform, but a hub for all sorts of entertainment. Partnering with Netflix was a brilliant move, and they've expanded since then by adding Xbox 360 apps for services such as Hulu, YouTube, and Crackle (and the less said about the 360 versions of Facebook and Twitter, the better). Now we've finally got a date for one of the most anticipated upcoming apps: Engadget reports that HBO has announced that their HBO Go service is coming to the Xbox 360 on April 1st.
HBO Go provides subscribers with instant access to damn near HBO's entire catalogue of films and shows. It's like the on demand services offered by many cable and satellite providers, only with an ever bigger library of HBO content. The new app will allow you to access all these HBO shows and movies via your Xbox 360 with a few button presses. There is, of course, some fine print: you'll still need an HBO subscription. Go doesn't replace an HBO subscription, it just provides another easy way to view their content. There's also another big selling point with the April 1st date: It arrives right alongside the second-season premiere of HBO's acclaimed Game of Thrones.
Sure, you could already watch any of these on your computer or other devices, and there were even existing ways to view the content on your bigscreen TV. But adding the functionality to the Xbox ticks one crucial box for many consumers: it's easy. There's nothing to fiddle with, connect, or plug in, you just download the app to your 360 and you're good to go. That user-friendly factor is a big part of Netflix's success on the 360, Playstation, and other devices, and HBO Go will likely see similar success. Of course, it has the strike against it of requiring you to already have an HBO subscription in order to use it, but who knows, maybe we'll eventually get to the point where HBO and other networks are no longer relying exclusively on cable and satellite services for delivery. If I could get a selection of my favorite cable networks a la carte through my 360, I'd cancel my DirecTV subscription tomorrow.
Your Daily Blend of Entertainment News
Your Daily Blend of Entertainment News
Thank you for signing up to CinemaBlend. You will receive a verification email shortly.
There was a problem. Please refresh the page and try again.