HBO Shuts Down Luck Production Entirely After Third Horse Death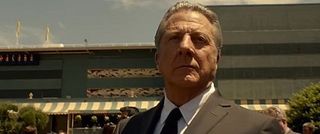 Following the news that a third horse had died on the set of HBO's Luck, I wondered if would be going too far to think HBO might shut the show down completely. Apparently not. Earlier today we learned that HBO was holding off on shooting any scenes involving horses while the situation was assessed by the American Humane Association. And now it looks like HBO has opted to stop production on the series entirely.
According to the statement made by HBO, as posted by Deadline, the network, along with series executive producers David MIlch and Michael Mann have decided to cease all future production on Luck.
The network expressed pride in the series and included a quote by Mann and Milch:
It isn't entirely clear from the statement or Deadline's article whether the decision to shut the show down was directly due to findings during the American Human Association's investigation, or if HBO and the producers merely decided that it would be better all around to stop production. One horse dying seems like an unfortunate accident. But three horses dying suggests a problem and one that may be unavoidable, given the nature of the show.
As Deadline notes, it's unclear whether any of the second season will air. Either way, the news is likely to be disappointing to those who are enjoying the series in its first season, which is currently airing on the pay-cable network.