Hallelujah! Seth Rogen, Evan Goldberg And Sam Catlin Are Adapting Preacher For AMC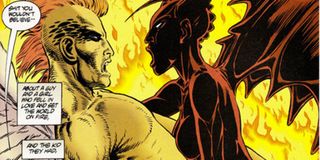 There have been many, many attempts to adapt Garth Ennis and Steve Dillion's comic book "Preacher" for both the big and small screen, and it sounds like audiences will finally get to see one. A few months ago word broke that Seth Rogen and Evan Goldberg, the writing-directing duo behind This Is the End, would be the latest trying to get the troubled project off the ground with a possible pilot and now The Hollywood Reporter is saying that the deal between Sony Pictures Television and AMC is not only official but also includes a "hefty commitment" as well as Breaking Bad writer-director Sam Catlin as showrunner. Sounds like a match made in, wait for it, heaven. Humperdoo indeed.
Before getting into why I think Rogen, Goldberg and Catlin are the perfect creative team to bring the Vertigo Comic about a possessed southern preacher, his assassin ex-girlfriend and an Irish vampire on the hunt to make God accountable for his absence to television, it's worth hashing out the property's troubled history as well as the details of the new deal, especially since they are pretty scarce. Apparently, the "hefty commitment" from AMC was the result of several networks bidding on the project and I'm assuming that means producing more than just a pilot. Sounds to me like Preacher's been ordered straight to series.
We know that Rogen and Goldberg will write the pilot but no word on, well, anything in addition to the script duties. Will the pair write more than one episode? Will they also direct the pilot? Will Rogen take on a role? Maybe just a cameo? There's really not that much more information compared to when the news was 'unofficially' announced. Even Rogen and Goldberg's joint statement on the deal is pretty much just a longer version of the former's very first tweet about the story three months ago, "This is amazing! We've tried for seven years to work on "Preacher" and we're so psyched AMC is finally letting us. It is our favorite comic of all time, and we're going to do everything we can to do it right. Humperdoo!"
To be fair, the official word did come with a promising comment from "Preacher" writer and multiple Eisner Award winner, Ennis...
As far as the troubled history of people trying to adapt "Preacher," it started at HBO with Kevin Smith (the Dogma director wrote the forward for the second book of the series) before several failed feature attempts from well-known filmmakers like Sam Mendes, Joe Carnahan, Darren Aronofsky and D.J. Caruso. And to be blunt, I'm pretty happy that none of those versions of the "Vertigo" series made it to the screen. No offence to those directors but none, save maybe Carnahan, would be able to capture the unique brand of comedy that pervades the twisted comic book series. Besides, one film wouldn't be enough to tell the whole tale and it's too risky a venture to split into a trilogy or more.
Of all the previous options, only Smith at HBO really makes any sense with cable television the right home for the sprawling story. But he's not known for his visual flare and the comic has some sequences that seem beyond his cinematic talents even if he could handle the humor. AMC may also be a better fit for Preacher than HBO, since the series may be too demented for the prestige network. I know they take risks, producing films like Steven Soderbergh's Behind The Candelabra when no one else would, but Ellen and Dillion's work is messed up. Don't get me wrong, they're brilliant, however, saying it's 'not for everyone' would even be a stretch. This is not Game of Thrones. This makes GoT look like The Hobbit.
AMC, on the other hand, seems like a perfect place for Preacher, with more extreme shows like Breaking Bad and The Walking Dead hitting it big on the network. Don't forget how graphic or funny the former could get (the bathtub) while the latter pushes the boundaries of the visceral with every episode. Ellis and Dillion's series is still crazier than the two combined but if anyone can provide the right platform, it's AMC. And if anyone can capture the tone, it's Rogen and Goldberg.
The pair have written several great comedy scripts, including a few successful genre hybrids like Pineapple Express, but it's their first directorial effort that proves how well suited they are for the "Preacher" adaptation. This is the End is crazy the same way the graphic novel is crazy. It's not nearly as extreme, however, the sensibilities are similar as is the tonal tightrope that Rogen and Goldberg walked with the material. Their horror comedy also contains some imagery that overlaps with the comic, namely the presence of sexualized demons and deities. I'm saying Demon sex is not out of place in either environment.
Although it's probably wishful thinking, the writer-directors could also populate the large ensemble (seriously, it's huge with the sprawling narrative taking place in the present and past as well as on two continents and, uh, heaven) with some of their friends who just so happen to also be great comedic actors. While none seem right for the aforementioned leads (Rev. Jesse, Tulip and Cassidy), they might want to show up in one of the flashy and fun supporting roles like John Wayne, The Saint of Killers, Herr Starr or Arseface. There is a character named Arseface. Wait till you see him. I hope they bring the subtitles. There are too many for me to fancast, so you'll have to just pick up the first issue and decide for yourself. Or wait for the show. I will say this, Danny McBride is a must.
Oh, and Catlin's work on BB is also pretty encouraging, having written ten episodes (including "Fly") and directed "Rabid Dog." Perhaps AMC brought him into the fold to provide a sure-hand as showrunner, adding some welcome television experience (and success) not to mention also taking care of his fair share of the writing and directing. Even if Preacher is going to be just a mini-series, Rogen and Goldberg have too many other projects in the works to 'settle down' with just the one and having a Breaking Bad alum seems like a nice solution. Yep, the project is finally in good hands, our prayers have been answered.
Your Daily Blend of Entertainment News
Thank you for signing up to CinemaBlend. You will receive a verification email shortly.
There was a problem. Please refresh the page and try again.