Halt And Catch Fire Review: AMC's Drama Even Makes Pin Voltages Fascinating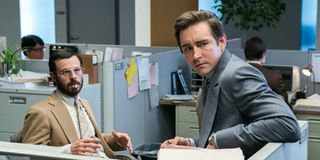 You have absolutely no idea what you are getting into with the Halt and Catch Fire premiere. I repeat: you have no idea what you are getting into with Halt and Catch Fire. The 80s drama starts with an armadillo's demise and ends with a slew of corporate IBM cronies shuffling into an office building like they're on an episode of The Walking Dead. In between, inspiring speeches, a rude but genius female and one man's awakening kicks off the drama to an exciting start. It's a good thing, too, because excitement has mostly been missing from the slew of hopeful new dramas AMC has produced over the last several years.
Three minutes in, audiences may not feel quite this way. In the show's opening sequence, we meet Joe MacMillan (Lee Pace), a suit and tie type who oozes the schmoozy charm befitting a good salesman. He's exuding his usual cockiness at a college where he meets Cameron Howe (Mackenzie Davis), a bold and brazen female who may just be the person MacMillan needs to launch a brand new computer project. Sweet talking deals and sex sequences penetrate the opening scenes of Halt and Catch Fire, but as the leads goals and personalities become apparent, the storyline gets a whole lot more interesting.
In the drama, MacMillan's pulling a bait and switch on a company called Cardiff Electronics, selling his possibilities as a salesman when he really wants one guy: Gordan Clark (Scoot McNairy), a man who had a vision some years ago before settling in to a normative clock-in, clock-out routine. MacMillan sparks Clark's underlying idealistic tendencies and suddenly they're off, talking about building computers and finding the "treasure map" to enable them to use computers for their own intents and purposes. It sounds boring, but it's actually so engaging audiences could probably listen to them talk about recording pin voltages all day. As MacMillan notes in what is to be the catchiest line from Halt and Catch Fire's pilot, "Computers aren't the thing. They're the thing that gets us to the thing."
They want to build something bigger and more connected, and it's these risks and stakes that should command the attention of audiences. Halt and Catch Fire is set in the 1980s, when electronic music is in full swing (as the soundtrack for the pilot makes apparent) and computers are still in their infancy. Yet, MacMillan, Gordan and Howe's project feels immediate, as if it is happening in real time and space. It's difficult to tell during the tenure of one episode whether or not Halt and Catch Fire will be able to keep up this entrancing pace. It's also impossible to know whether or not the team of risk takers will end up as the kickstarters of the Internet or will crash and burn gracelessly into oblivion, but half the fun should be finding out.
AMC has always been great at tying characters' home lives into workplace dramas, and Halt and Catch Fire is no exception. Argo's Kerry Bishe takes on a great challenge playing Donna Clark, Gordan's endlessly patient wife who seems torn between wanting an average life and letting her husband chase his dreams. She's a high caliber female and quite a bit more likeable than Howe, although perhaps less admirable in some ways. Regardless, during the first episode she's the glue that ties Halt and Catch Fire to reality and keeps things interesting for those viewers who are less impressed with the appearance of computer know-how than I seem to be.
AMC has put a lot of effort into bombarding audiences with its period drama. The pilot for Halt and Catch Fire became the first to premiere on Tumblr. It was shown at SXSW and AMC has made it available online before Sunday's big premiere. The network has invested in hooking new viewers, but if Halt and Catch Fire manages to take the TV realm by storm, it won't just be because of marketing efforts. The pilot shows the time, perseverance and attention to detail of some of television's best programs, and if the other nine Season 1 episodes are half as good, Halt and Catch Fire will be worth watching.
AMC's Halt and Catch Fire premieres Sunday, June 1 at 9 p.m. ET. Alternatively, you can catch the pilot online.
Reality TV fan with a pinch of Disney fairy dust thrown in. Theme park junkie. If you've created a rom-com I've probably watched it.
Your Daily Blend of Entertainment News
Thank you for signing up to CinemaBlend. You will receive a verification email shortly.
There was a problem. Please refresh the page and try again.