Hart Hanson Says Bones Isn't Ending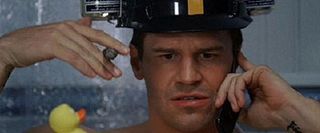 David Boreanaz and his recent tweets have had Bones fans worried that they're getting ready to watch the final season of the series. But you can all take a deep breath and rest easy tonight. Bones creator Hart Hanson has responded to the rumors that flew after Boreanaz made some very interesting tweets: no, Bones has no plans to end after the next season.
Apparently, David Boreanaz's tweets, in which he referred to himself as a "free agent" at the end of the season and mentioned a "farewell tour" saying that the SDCC 2012 appearance would be the last, came as a surprise to Hanson. He hadn't been on Twitter and had no idea until he was inundated with emails asking what was up with the future of Bones. He told EW:
So what do David Boreanaz's tweets actually mean? Is he planning to leave the show after season 8? His contract will be up, but Hanson doesn't seem to think that's the case either. He pointed out that Boreanaz loves to cause a "brouhaha" (well done, Mr. Hanson, on the sadly underused term) and is probably just fooling around. Hanson also suggested maybe Boreanaz is looking to start contract negotiations a little early by hinting he might want to leave, but he really thinks the star is "just having some fun." He certainly did manage to cause a "brouhaha" since apparently Hanson got over 400 emails about it.
So hang in there Bones fans. It looks like David Boreanaz is just messing with us.