Heather Graham And 24's Mary Lynn Rajskub Join Californication's Season 7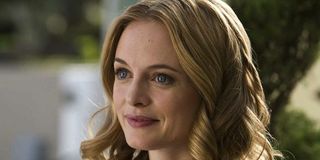 The upcoming seventh season of Californication has booked a couple of new actors. On board for a season-long arc on Showtime's series is Heather Graham and on board for a shorter stint is 24 alum Mary Lynn Rajskub. Just what Hank Moody (David Duchovny) needs – more women in his life.
Heather Graham will be playing a woman out of Hank's past, says Deadline, and her reappearance will throw the writer for a loop. Rajskub will have a three-episode arc in which she plays a neurotic writer – Hank's female counterpart, perhaps? The two ladies will be joining another recent addition to Californication's Season 7 cast, The Sopranos's Michael Imperioli, who is set to play a television producer in a key role.
Graham has recently appeared in The Hangover, and will be back with the third installment. She's also has the title Behaving Badly coming out this year, which features another former Showtime star, Weeds' Mary Louise Parker. Her last TV effort was a pilot for Fox, Little in Common, that didn't go anywhere. Rajskub meanwhile has a much longer list of TV credits; aside from 24 she also appeared on the short-lived comedy How to Be a Gentleman and has guest starred on shows like The Mentalist and Grey's Anatomy.
Californication just wrapped up Season 6 last week but was renewed in January, along with a couple of other Showtime series. The network is just gearing up to start production on the new season, which will hit the air in 2014.
Your Daily Blend of Entertainment News
Thank you for signing up to CinemaBlend. You will receive a verification email shortly.
There was a problem. Please refresh the page and try again.