Heather Graham Takes Over As Female Lead On Fox's Little In Common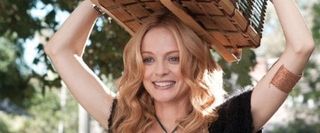 Fox seems to have little in common with new pilot Little in Common, which is a shame, because at first glance the series seemed a concrete one. Created by Party Down writer and mastermind Rob Thomas, Little in Common had lured in Rob Corddry, Kevin Hart, Gabrielle Union, and Paula Marshall to star months ago. With cast and creator working for the program, it seemed like the show would have an easy path to make it to series. However Little in Common, a program about an upper middle class family who moves from California to Texas and encounters neighbors with differing values, apparently needed some tweaks.
Most of the issues seem minor. Some of the kids needed to be recast and a new pilot needed to be shot. Regardless, none of these changes were going to matter if they couldn't find a new lead female after network executives decided Paula Marshall needed to be replaced. According to Deadline, Little in Common has found its new leading lady, and their choice is surprising. Heather Graham is now set to star in the comedy.
The switch from film to television was bound to happen for the actress, whose recent film roles have been either unmemorable, as per The Hangover, or just complete box office busts, as per Judy Moody and the Not Bummer Summer. Graham could keep trying her hand at movies; but why play third or even sixth fiddle when she could work with Corddry, Hart, and the like and star in a network TV program? With that said, Little in Common is being considered for Fox's two-hour Tuesday night comedy block at midseason. I sure hope we get a chance to see whether Graham and co. make a funny match.
Your Daily Blend of Entertainment News
Thank you for signing up to CinemaBlend. You will receive a verification email shortly.
There was a problem. Please refresh the page and try again.