Hemlock Grove Review: Netflix's Horror Series Rises Above The Gore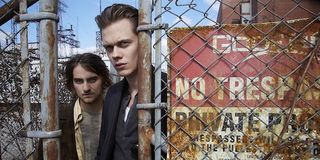 Netflix's newest entry into original programming is Hemlock Grove, a supernatural horror series that seems to be an odd mash-up of Twin Peaks and True Blood. In a small Pennsylvania town a teen girl is found brutally murdered, but it quickly becomes obvious that mystery of her death is merely the tip of the iceberg when it comes to secrets.
Hemlock Grove's residents seem, at first glance, a little too familiar. There's the cold, beautiful, and wealthy Olivia Godfrey (Famke Janssen) who sweeps around her mansion wearing only white and acting superior. Next is her teen son, Roman (Bill Skarsgard) the only son of the Godfreys who seems far older than his years and throws his money around on drugs and paid sex (which he likes with a little blood involved), and her daughter Marie who was born with serious physical defects that make her an outcast. There's the newcomer to town, rough-around-the-edges gypsy Peter (Landon Liboiron) who is immediately a subject of suspicion, and his unshakeable mother Lynda (Lilli Taylor). And of course there's the small town sheriff (Aaron Sworn) who has never seen the likes of a murder like this and doesn't quite know how to go about dealing with it. Throw in the innocent believer in angels and immaculate conception, Roman's cousin Letha (Penelope Mitchell), and the too serious aspiring novelist Christina (Freya Tingley) who somehow knows Peter's big secret, and there's a feeling we've seen it all before.
But as some of the town secrets are revealed, the characters develop beyond the formulaic. Roman reveals a sensitive side in his gentle affection for his sister, and presents himself in unexpected friendship with Peter as the two quickly discover the kinship of monstrous secrets and the need to find out who is behind the growing number of murders. Marie's disfigurements hide a quick mind, which she shares with her uncle (Dougray Scott), a man who struggles with his conscience but can't stay away from his long-standing affair with Olivia. Even Olivia shows signs of having a heart.
Of course, there's horror here too; Hemlock Grove's werewolf transformation scene in which the rumors about Peter prove very clearly true, makes every other such scene pale by comparison. Roman's eerie powers and obsession with blood manage to skip much of the classic vampire lore; three episodes in it seems clear he is some form of blood drinker to the point of fetish - he connects it with sex - but he walks in daylight and doesn't seem to have a need to kill. There's a creepy scientist buried in the mysterious (and somewhat out of place) Godfrey tower clearly up to no good. And let's not forget the disemboweled bodies. But Hemlock Grove doesn't rely on gore; there are some real characters here too.
Hemlock Grove doesn't entirely manage to throw off the shadow of the shows that have come before, but for fans of series like True Blood and The Vampire Diaries it's likely to (forgive the pun) sink it's claws into you.
The entire Hemlock Grove series is available to stream (opens in new tab) on Netflix as of today.
Your Daily Blend of Entertainment News