Highlights From Community Creator Dan Harmon's Reddit AMA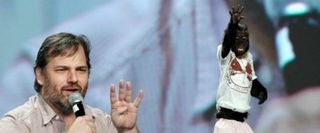 Say what you will about Dan Harmon, and people have said plenty since his firing a few months ago, but the creator of Community can deliver a wonderfully candid interview. Or tweet, or blog post, or, in this case, reddit AMA. For the uninitiated "AMA" stands for "ask me anything," and it's a chance for celebrities (whether stars of screen, captains of industry, or leading scientists) to converse with the increasingly large reddit community.
Harmon took to the, well, he took to his keyboard, with a bottle of vodka and an energy drink, to answer as many questions as he could in the couple of hours he was online. In normal circumstances, most questions might revolve around wanting to know the most intimate details of his recent departure from his series, but most of the discussion involved positive reflection on Community, as well as brief glimpses into his intended plans. There were also a lot of "what he saids" when someone other than the writer stepped in as a know-it-all and answered the question.
Harmon was also very gracious whenever talk of the upcoming fourth season was brought to the forefront and, thankfully, a lot of questions were directed at what the future had in store for him, rather than the show he had to leave behind. Here are some highlights from "I am Dan Harmon, creator of Community, writer of Monster House, and Executive Producer of the upcoming Charlie Kaufman Stop Motion Animated Feature Anomalisa, ask me anything!"
How was the placement of the 7 study group members at the table decided? Did the actors pick their characters' own seats?
What's the storyline you never got to do on Community that you most regret?
Being a group of well-informed reporters, one of the redditors participating noted that an almost identical storyline is being plotted for Season 4, with Matt Lucas stepping into a role similar to the one envisioned for Richard Ayoade. I, like the debate that ensued, would much prefer seeing Ayoade in the role, but I would also rather have Harmon behind the wheel, so let's stick with the cards we've been dealt.
As a follow up, how much are you allowed to reveal about your original vision for the future of the show?
After a few softball queries, like what was his favorite episode ("Dungeons and Dragons") and what one was his favorite to shoot ("the first season paintball"), his answer to What would you say is the best thirty seconds (or so) of any episode is worth reading in full…
And, of course, if his favorite moments are going to be discussed, fans also wanted to know about a few regrets, like if there are any episodes you wish you hadn't done?
Soon after the missed opportunities were left on the table, the questions about how much of Harmon will be in the fourth season returned.
Do you know if the new showrunners are allowed to use any of those ideas? I guess my main question is, does anyone still working on the show know what your original goal for season 4 was and plan to honor it?
When Jeff's Dad was brought up, instantly the conversation turned in that direction, with fans wondering if Harmon had made a shortlist for potential actors to play William Winger. Once again, before the creator could chime in, another commenter answered "Bill Murray," which prompted another "What he said" from Harmon. Funnily enough, the conversation briefly jumped to twitter with a follow-up asking if Jeff was the son of Murray's character John Winger in Stripes. Always with the meta! Although, I do think he was pulling that dude's leg. Then came a really great question:
Will you watch the new episodes?
All the various hooplas with Chevy Chase were obviously a hot topic, and Harmon addressed them all with honestly and humor, exactly what you'd expect from the guy who created Community.
Did NBC make you cast Chevy Chase, or was it something you intended to do from the start?
In Season 2, Pierce turned into a villain of sorts. Was this a reflection of how you and the other writers felt about Chevy Chase or a coincidence?
The rumour mill says that Chevy Chase walked off set at the end of filming for Season 3 because he refused to do something. What did he refuse to do?
Why did he refuse to do it?
What are you going to do now that you aren't doing Community?
Did you write the finale of S3 as if it could have been a series finale?
"Yes, it symbolizes me leaving the show. I didn't know for sure I was going to but I had a feeling I might have to."
That seems like a good a place as any to leave the summary. Head over to Dan Harmon's AMA to catch the rest, and remember that next week, Wednesday August 29 at 3:00 p.m. ET, we get to do this all again with Dino "Starburns" Stamatopoulos. Oh, and my favorite line from the whole thing was, "I'm with the love of my life, which means most of my fantasies involve her with other people, because I absolutely hate myself."
Community returns for Season 4 on Friday, October 19 at 8:30 p.m. ET on NBC.
Your Daily Blend of Entertainment News